The skills that can make architects good developers
26 September 2019
Many architects have tried their hand at a modest development project: at the smallest end of the scale, self-build is essentially a form of development. However, making the leap to becoming a fully-fledged architect-developer requires determination, ingenuity and clear-eyed business skills.
John Smart, Director of Craftworks, is an architect who has established a business encompassing not only design and development but construction as well. It is a model Smart likes to think has echoes of the historic "master builder" architectural role.
He believes architects have two clear advantages over conventional developers when it comes to finding a site that has potential.
"Architects can be quick and nimble," he says, encouragingly. "They can view a site in the morning and make an offer in the afternoon, whereas developers will bring in their consultants to check it over, which could take six weeks. Being able to move quickly is a major advantage, though you have to have your ducks in a row and be ready."
The second advantage is the architect's eye for what can be done on a site, seeing an angle that a non-architect developer will miss. Often, this will mean the ability to achieve greater density through higher quality design.
For example, Craftworks managed off in dramatic fashion with its DKH housing project in South London. When initially purchased in 2005, it was earmarked for four or five units, but Smart designed 19 duplex flats across six stories. With its carefully crafted interiors, the project went on to win a RIBA Award for Best New Housing in London.
Scrutiny of emerging planning policy for an area is crucial, particularly where density formulae are being changed or relaxed to encourage local development. Smart advises to look for sites with "latent potential", such as a disused industrial shed in a site that is part of an area regeneration plan, and therefore planner-friendly.
While sites without planning permission in place are an obvious target for cost reasons, Smart points out that experienced architects could also focus on sites that have failed to receive planning permission. They have an awareness of planning processes and the ability to maximize a site's potential: this allows them to spot opportunities that a more conventional developer would overlook.
Financing development is of course a considerable challenge, something especially true in big cities where land is at a premium. Smart's first project was a house in South London's New Cross, but at a time before property and land prices became so intimidating.
"Your bank has to see you as a credible and professional operation," Smart insists, "and your credibility is earned over time, via the successful delivery of projects."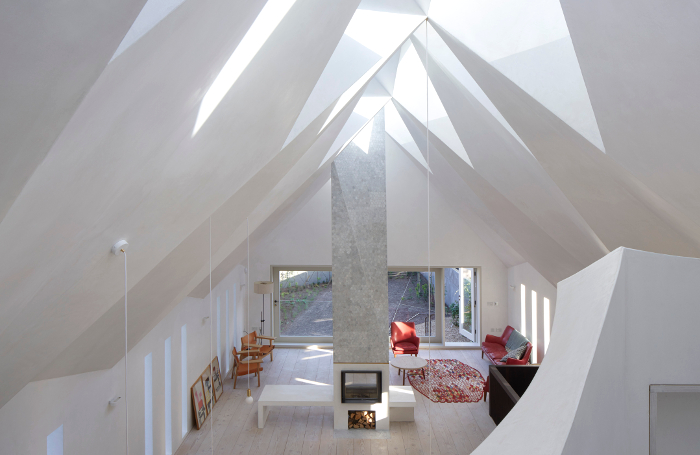 Smart's business was beginning to grow just as the last UK recession hit. Interestingly, the practice managed to deliver some extremely large projects during those lean times.
This was largely because lenders never lost faith in the business, thanks to impeccable financial management and transparency: the practice had to be able to demonstrate sound cash flow to his bank, right down to the cost of a pint of milk.
Growth in their development projects was piecemeal, moving project to project from one-off houses to larger residential schemes and office developments. They are now looking at hotels and co-living schemes.
"Follow emerging types of development," advises Smart. "We are not afraid of different types of use."
Craftworks' third business arm is its in-house construction team. This began as a very small regular labour force for their projects, but the team is expanding to employ project managers and quantity surveyors.
There are clear advantages, not least the assurance of a high-quality build. "If we want to change something it costs far less, and we are not tied up contractually," Smart points out. "We are not at the mercy of a contractor's suppliers. And the architect on site can act almost like the site foreman when needed."
Smart cautions that being an architect-developer is not for everyone. The role requires a lot of pushing and shoving to make things happen.
"It's not just about being good with spreadsheets. It requires aspiration and a strong survival instinct. You need to be a certain type of character."
John Smart will be presenting 'How Do I Plug the Gap' at the RIBA's Guerrilla Tactics 2019: Understanding the Developer Mindset on 5 November at the RIBA, 66 Portland Place, London, W1B 1AD.
Thanks to David Smart, Director, Craftworks.
Text by Neal Morris. This is a Professional Feature edited by the RIBA Practice team. Send us your feedback and ideas.
RIBA Core Curriculum Topic: Business, clients and services.
As part of the flexible RIBA CPD programme, Professional Features count as microlearning. See further information on the updated RIBA CPD Core Curriculum and on fulfilling your CPD requirements as an RIBA Chartered Member.
Posted on 26 September 2019.