Understanding what your clients really want
20 June 2019
Listening to clients in order to fully appreciate what they want from an architect is fundamental: it is the essential first step in a productive working relationship.
"You have to listen, know your client, and find out about them," urges Teresa Borsuk, Senior Partner at Pollard Thomas Edwards. "The client-architect relationship has to be very carefully managed. To get the best out of it, architects need to understand how clients 'work': their ambitions and their drivers."
Borsuk points out that service industry businesses and tech companies have entire teams dedicated to the client experience. But in architecture, this idea may sometimes be considered tertiary. However, architecture is fundamentally a service industry, she argues: one which may or may not even result in a building.
Experienced practitioners commonly point to the very beginnings of a project as being the stage where clear communication between client and architect is most important, as you might expect. It is here that the architect's experience, design skills and ingenuity can add value to a project.
"Communication with clients is crucial and often quite problematic at the outset, particularly with clients engaging an architect for the first time," states Will Mawson, Director of Mawson Kerr. "With first-time clients there is a lot of reading between the lines."
Trust will not yet have been built up at the onset and so a client may keep back key data. Potential for misunderstanding is rife, so keeping a record and sharing it with the client is advisable.
"Sometimes I grab a comment from an initial meeting only to find this was a throwaway remark," Mawson notes. "So we try to list everything said in initial meetings and allow the client to sift through: prioritising and omitting to allow a brief to be developed on the right footing."
How fully developed the client's initial idea is can vary widely depending on client experience, project type and scale, points out Rachael Davidson, Director of Hût Architecture.
"We employ an initial briefing questionnaire for new clients, which forms part of our Project Quality Plan once we are appointed," she explains. "We often need to revise this following Stages 0-2, as sometimes you need to draw something for a client to help them decide what they want."
Her practice will dedicate time up front to 'educate' new clients on their goals and ambitions, addressing time and budget considerations. For larger projects, the practice relies on a network of professional consultants to feed into conversations on programme and budget.
The latter is echoed by Shahriar Nasser of Belsize Architects: "We insist on having the necessary consultants," he states. "Often private clients would like to avoid having consultants as they do not wish to pay the fees. But we try to persuade clients that it is to their benefit to have the right consultants on board."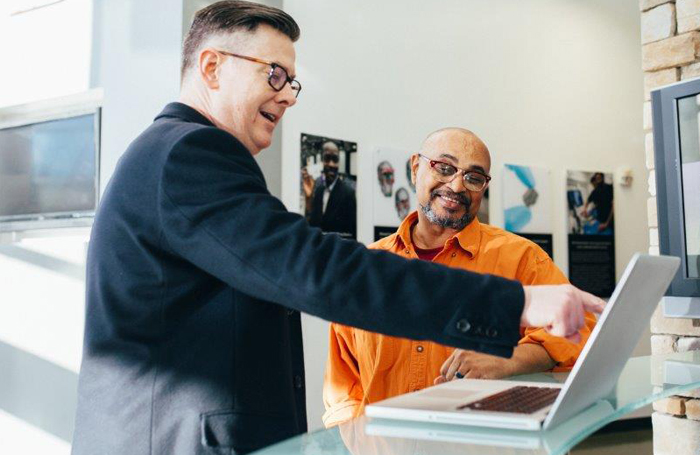 Clear communication is, of course, not just a question of what is said, but the medium used to get the message across.
"Emails are a poor form of communication generally," warns Will Mawson. "So much is in black and white but with little hierarchy. Phone conversations and, even better, face-to-face meetings get messages across in far more clarity."
"Clients can be less 'visual' in their communication so we try to assist in being an extension of their arm: sketching and giving an array of images to prompt their thoughts."
Tools such as Pinterest can be a non-intimidating, effective way for clients to give a general feel for their ideas. Often, Mawson will produce a large sheet full of images around a theme for clients to pore over during a meeting, to get a sense of what is on their wavelength and what definitely is not.
Once both client and architect are speaking the same language, the architect can demonstrate the value their skills add to the project. A practice's own ways of working and its adaptability, based on experience, can then come into play.
"For projects where programme is a key consideration we have adapted our work flow to work in more dynamic way, to help keep things moving," points out Davidson, as an example of one way her practice might go the extra mile for a client.
"During construction stage, for instance, we will set up weekly site meetings and rely on hand sketches rather than full CAD drawings to ensure the speed of information releases matches the construction."
What architects need when dealing with clients is empathy. This quality, studies have shown, is relatively future-proof in terms of vocational redundancy: it is a quality architects provide that an algorithm or robot cannot.
Empathy consists of much more than merely educating the client. Borsuk says it is not uncommon to have experienced architects facing experienced architect clients and still not make a productive connection.
"Clients come in all shapes and sizes, but the constant that is essential is to understand them and their business," Borsuk states. "If you can be smart about what adds value for your clients, they will value you in return."
Thanks to Teresa Borsuk, Senior Partner, Pollard Thomas Edwards; Will Mawson, Director, Mawson Kerr; Rachael Davidson, Director, Hut Architecture; and Shahriar Nasser, Director, Belsize Architects.
Text by Neal Morris. This is a Professional Feature edited by the RIBA Practice team. Send us your feedback and ideas
RIBA Core Curriculum Topic: Business, clients and services
As part of the flexible RIBA CPD programme, Professional Features count as microlearning. See further information on the updated RIBA CPD Core Curriculum and on fulfilling your CPD requirements as an RIBA Chartered Member.
Posted on 20 June 2019.