04 January 2017
The announcement at the close of the year that a Chinese state-backed company is pledging a 'game-changing' £2.5 billion investment in six modular housing factories suggests that 2017 could be the year when offsite construction in real volume starts to arrive in the UK.
The China National Building Material Company (CNBM) has teamed up with housing association Your Housing Group, which is putting up a further £250m, to build a target 25,000 homes a year by 2022. The deal-making process was supported by the Department for International Trade.
The consortium is planning to open its first factory in the summer and then one each year until 2022, with each facility sitting at the centre of its own regional catchment area. The factories are each expected to produce 4,000 housing units a year and will be trying to drive down construction costs to £400/sqm when fully operational.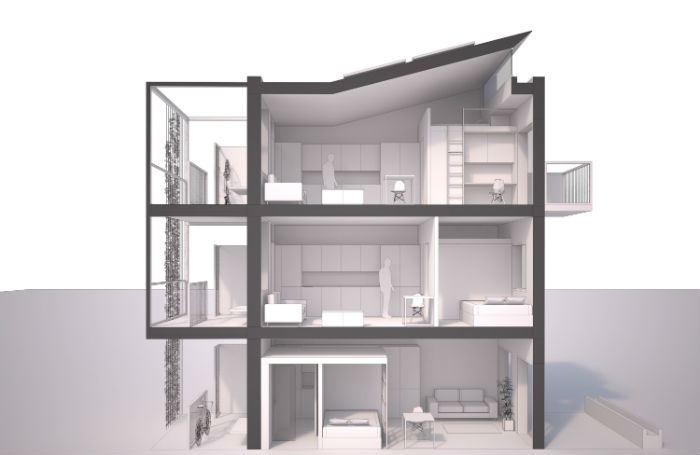 A third member of the consortium, longstanding CNBM partner WElink Energy , will be providing solar panels and other renewable energy technologies.
In the meantime, pilot schemes are expected to start arriving this year using light-gauge steel-framed panels manufactured in Barcelona and shipped to the UK factory for assembly. The consortium says it plans five pilots to deliver a total of 2,000 homes in 2017. The location of the first factory is still to be confirmed.
Before the CNBM pilots arrive, we should be seeing the first housing schemes rolling off production lines at the £55m offsite manufacturing facility already established near Leeds by insurance and investment group Legal & General, which has its own plans for revolutionising UK house building.
L&G appears to be half-a-year ahead of CNBM's modular housing drive, with its first developments expected to get the go ahead over the coming months.
More details of the L&G offering have been revealed. L&G has opted for Cross Laminated Timber (CLT) structures and says it will be able to supply any housing type right up to 20-storey apartment blocks.
The L&G homes will arrive on site almost complete – even with carpets laid – and certified defect-free. On site, works will be limited to foundations and connecting to services and erection should be completed in a single day.
L&G says it will finish the homes to any specification – brickwork, render or other cladding. 'If it exists, we can use it for the exterior,' L&G Homes claims.
And while designed to be highly energy efficient by default, the homes can be upgraded to Passivhaus standards if required.
One of the first clients for the L&G system will be Richmond Housing Partnership (RHP), which has already put in a pre-application for planning to build the first of a series of developments that will be offered for affordable rent without government grant support.
RHP chief executive David Done says the housing association is aiming
for build costs of £55,000 to £65,000 for 26sqm one-bedroom flats, compared with around £80,000 to £90,000 for a similar-sized property built using traditional methods.
'This is our first step towards offering homes to the intermediate market – the growing number of people who don't qualify for social housing but also can't afford to buy or rent in the private market,' says Done.
Architects for the 30-home scheme are West-London based Wimshurst Pelleriti, which expects to see its prototype unit delivered by L&G to RHP in the near future.
Director Will Wimshurst is positive about the role that architects can play in volume-produced modular housing:
'Mass production and the economies of scale this can generate provide us with the opportunity to specify higher quality materials at a much lower cost than traditional construction. In addition, time on site will be reduced dramatically, generating further significant savings,' says Wimshurst.
'However the key for us is to ensure that design quality is maintained throughout the manufacturing and construction process, and this will only be achieved by a strong relationship between designer, manufacturer and client. With this in mind we have worked very closely with both L&G and our client RHP over the last few months and it is this close working relationship that will be critical in ensuring that the design is not diluted and quality is maintained right through to completion on site.'
Thanks to Will Wimshurst, Director at Wimshurst Pelleriti.
Text by Neal Morris, © RIBA