Why architectural apprenticeships are the way forward
20 December 2018
The first participants in the architectural apprenticeships scheme have high hopes that this alternative to traditional university-based courses will become the way to go for the profession.
Earlier in 2018, the Architecture Apprenticeships Trailblazer Group, consisting of 20 large practices, drew up two apprenticeship standards for the training and study equivalents of Part 1 and a combined Part 2 and 3.
These were accepted for funding under the government's apprentices scheme for England over the summer, allowing the first apprenticeships to get underway at the start of the current academic year.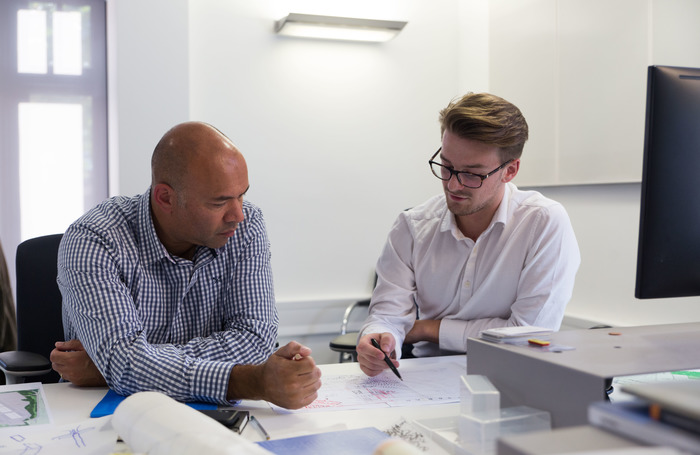 The 'Architectural Assistant' apprenticeship, is also known as Level 6 and is equivalent to a Part 1 qualification; while the 'Architect' apprenticeship is Level 7 and is equivalent to completion of Part 2 and Part 3 qualifications.
Both of the architectural apprenticeship schemes last for four years, with 80% of an apprentice's time spent with the employing practice and 20% with a participating university. Employers pay the students' academic fees and salary but can claim back 90% of academic fees as periods of study are completed.
One practice with a Level 6 apprentice already on board is 3DReid. Their student employee, Nathan Akilla, had previously spent three weeks with the practice enjoying work experience. He returned months later to enquire about starting an apprenticeship and studying at London South Bank University.
3DReid is currently paying Akilla's student fees, expenses and a salary, and is finding him to be a really productive asset for the team. Director Richard Fairhead sees apprenticeships as the way forward for both completely new entrants and post-Part 1 students who would otherwise face the burden of additional student debts.
'There is always a risk when taking on a school leaver that they are not going to see things through, so work experience before entry is probably the best route,' suggests Fairhead. 'They get a taste of working in a practice and we can take a view on whether they are the right people for us to take on.'
'If these apprenticeships had been around when I started, I would definitely have taken this route,' he affirms.
Trailblazer practice PLP Architecture is preparing to interview some school leavers for the Level 6 apprenticeships that have been introduced to the practice by the Stephen Lawrence Charitable Trust, which has been working with a number of practices interested in the apprenticeships scheme.
HR manager Sonal Rathod says she would have liked to have given PLP's existing Part 2 and Part 3 staff the opportunity to take Level 7 apprenticeships, but they already had places with a university that is not currently participating in the scheme.
For the 2018 to 19 academic year, not many universities were quick enough to open the door to architectural apprentices, including London South Bank, Northumbria and Oxford Brookes. Of these, only London South Bank is offering both Level 6 and Level 7 architectural apprenticeships this year, with the others offering post-graduate Level 7.
Rathod expects the scheme to gather momentum as more universities make plans to accept apprentices: 'I can't help thinking that this is the way professional training will develop, giving students a chance to earn while they learn. But first more universities will need to get into gear.'
Although it is early days, the first cohort of apprentices are clearly very enthusiastic. 'Although I have only been on the course for three months, I have already been exposed to so many great opportunities,' says Max Collins, a Level 7 apprentice with Scott Brownrigg. 'Having a proportion of my hours set aside for research, whether I choose to make it practice-led or personal, allows me to continually push my own interests and start shaping my own path from day one.'
'We get exposed to a range of practices and ideologies,' he continues, 'in the form of notable practice visits and presentations from some of the best people in the game. This has given me insights into the different ways a practice can be run, helping me to form a stance on what I feel a good practice is.'
Scott Brownrigg's Director of Practice, Helen Taylor, is equally pleased with how the apprenticeships are going. 'There is a real opportunity to use this new path to qualification to support diversity and inclusion in the profession,' she affirms. 'Practices of any size are able to take on apprentices, so we want to establish systems to offer mutual support and communication across employers'.
'Everything is new at the moment, so we want to share our experiences and build a consistent approach to supporting apprentices across the industry.'
The RIBA employer's guide to architectural apprenticeships will be published in January 2019 and will cover everything practices need to know about the scheme, the recruitment of new entrants to the profession and the apprenticeship route for existing Part 2 and Part 3 employees. In the meantime, practices and potential apprentices can find regularly updated information on the RIBA Apprenticeship hub.
Thanks to Richard Fairhead, Director, 3DReid; Sonal Rathod, HR Manager, PLP Architecture; and Max Collins and Helen Taylor, Scott Brownrigg.
Text by Neal Morris. This is a Professional Feature edited by the RIBA Practice team. Send us your feedback and ideas
RIBA Core Curriculum Topic: Business, clients and services.
As part of the flexible RIBA CPD programme, Professional Features count as microlearning. See further information on the updated RIBA CPD Core Curriculum and on fulfilling your CPD requirements as an RIBA Chartered Member.
Posted on 20 December 2018.