24 January 2019
Over the last few years, there has been a great deal of research into the ways in which design and the built environment affects our mood and mental wellbeing.
While wellbeing has always been a component of architectural design to some extent, it has found real success over the last decade in the US, where such considerations were originally introduced to keep employees more contented in commercial office buildings.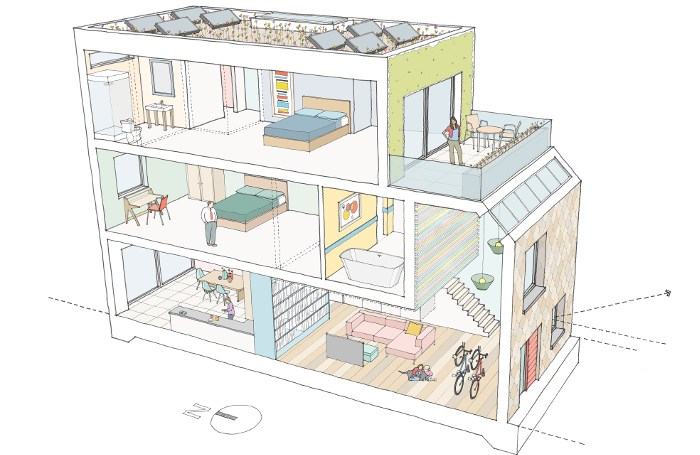 The WELL Building Standard, which places health and 'wellness' at the centre of design and construction decisions, now has its own Institute and accreditation scheme and several projects have now met the standard in the UK.
"There have been huge leaps forward over the last decade, both in terms of scientific understanding and a cultural shift among clients and users of buildings," notes Ben Channon, an Associate at Assael Architecture and the author of Happy by Design: A Guide to Architecture and Mental Wellbeing.
His research into how buildings affect users psychologically was prompted in part by his own battles with anxiety in the past, and his book of design suggestions for the mental wellbeing of users brings lessons from neuroscience and psychology into design choices.
Channon points, for example, to the residents' sense of control over their environment as a fundamental consideration for an architect's work. He cites a recent investigation into stress, which found that commuters' feelings of impotence regarding their journeys to and from work was dramatically increasing their heart rate and release of cortisol (a hormone related to stress).
Accordingly, design that provides adaptable spaces that inhabitants can alter to suit their needs or whims will lead to happier, more empowered people. Channon points to the work of Dutch structuralist architects such as Aldo van Eyck and Herman Hertzberger as a good example, with integral aspects of a design having multiple uses.
Conversely, designers have a degree of control that they can employ to encourage healthy behaviour among a building's users. Climbing stairs, for instance, improves cardiovascular health and muscular development and can burn more calories than jogging.
While bearing in mind issues of accessibility, making staircases aesthetically attractive can be a gentle prompt to physical activity. "An open, glassy, top-lit staircase might encourage people to walk to the third floor rather than take the lift," Channon points out.
The wide, colourful steps that BVN Architecture placed at the centre of an office design is a good demonstration of this kind of idea in action.
Many of Channon's tips involve thinking strategically around commonplace design issues. For example, spaces within a building that only have a northerly aspect and which, therefore, are likely to lacking in natural light may be recuperated as areas for book storage or wall art; receptacles for materials that can suffer from too much light.

"I wanted data-driven research to inform the book as far as possible so that the design principles are always backed up," Channon states. "It's important for designers to be aware of the research that is being done in neuroscience and medicine that is adding to our knowledge."
Assael is introducing wellbeing feedback into the practice's own design review process. There, Channon has also been named Mental Wellbeing Ambassador for his efforts to support the mental health of staff internally.
Last year, Channon was instrumental in setting up the Architects' Mental Wellbeing Forum, @AMWForum, in response to alarming reports and statistics relating to mental health issues among practitioners and students.
The AMW forum comprises twelve practices with a reputation for looking after the mental welfare of staff, including well-known practices such as Assael, HTA, AHMM, Make and Hawkins\Brown. The forum is working on a toolkit to help practices support their own staff and hopefully add to the sum of wellbeing across the profession.
Thanks to Ben Channon, Associate and Mental Wellbeing Ambassador, Assael Architecture.
Text by Neal Morris. This is a Professional Feature edited by the RIBA Practice team. Send us your feedback and ideas
RIBA Core Curriculum Topic: Health, safety and wellbeing.
As part of the flexible RIBA CPD programme, Professional Features count as microlearning. See further information on the updated RIBA CPD Core Curriculum and on fulfilling your CPD requirements as an RIBA Chartered Member.
Posted on 24 January 2019.