18 July 2019
Finding new clients overseas has obvious benefits for any business wishing to grow. While winning projects abroad might be seen as the preserve of large practices, many small or medium-size practices are finding that such work is within their reach.
Marco Ortiz is a UK based architect originally from Mexico. He was Design Director at Rafael Viñoly's London office before setting up Emergent Design (ED) in London just over five years ago .
His original business plan was to set up shop in London, but with an overseas satellite office, specifically to try to win larger projects than a start-up practice could expect to in the UK.
"I wanted to find a way of avoiding years of kitchen extensions before getting a glimpse of something big," recalls Ortiz, "and one way of doing that was to build a portfolio elsewhere."
Ortiz had contacts in Mexico and understood its business culture. By 2016 he had won an invited competition to design the high school campus at the John F. Kennedy American School in Queretaro, central Mexico, even though he was up against eight distinguished Mexican practices.
Significantly, it was an invitation from an architect that placed ED on the shortlist. Ortiz estimates that around 90% of his commissions in Mexico, which include large residential and retirement home projects, have come from architect contacts. These might be referrals, recommendations, shortlist invitations, and collaborations with architects he knew as a student.
While it is Ortiz's training in Mexico that established many of his initial contacts, principals of practices in the UK may have more international contacts than they think, he suggests. Their staff's homeland networks might be a resource to get a foothold in an overseas market.
"London attracts some of the best students in the world who might stay for a few years and then go home," states Ortiz. "You just don't get that in many other European cities."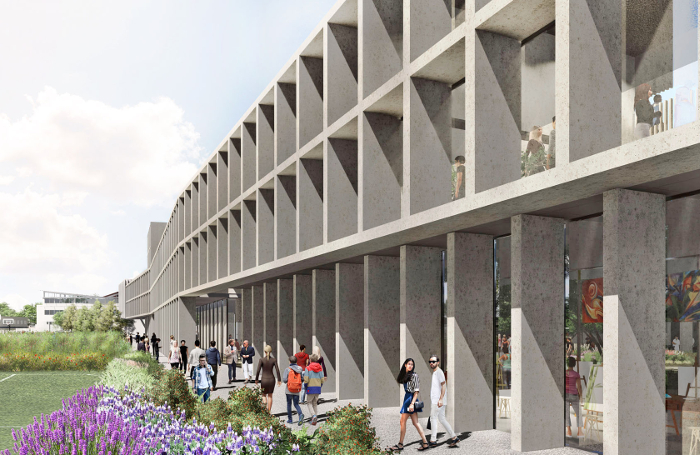 While Ortiz's international venture was successful in winning some large projects, fee rates in Mexico are less than in the UK. However, this has led to an unanticipated outcome: his practice is now 'offshoring' some of its more routine and delivery based work to Mexico City.
Much of the rendering on its UK projects, for instance, is now done in Mexico. While this was not part of the plan, it is now making the London office more competitive when it comes to bidding for UK projects.
He counsels that we should not underestimate the high regard in which UK architectural training and the RIBA 'badge' are held overseas; a reputation which even small practices can capitalise upon.
"If you are a UK practice you have a reputational advantage," agrees Mara Vasilache, a Director at the seven years old BCI Studio. "British architects generally have a good reputation abroad and are perceived as very well trained."
Vasilache came to the UK from Romania and is responsible for the practice's Eastern Europe portfolio. She emphasizes that BCI's impressive range of work (in over 40 nations) is sustained by a great deal of networking.
"We go to a lot of events and conferences, both in the UK and abroad, which attract developers from different countries," she states.
Establishing a reputation in a particular sector has also been vital for BCI.
"It is very important to choose a niche," she counsels. "Retail design is ours. In some regions they may have plenty of residential architects, but few who understand how to do a shopping centre or cinema."
"We have an understanding of the latest international standards and trends, but we also think hard about how to implement these into a region's local environment, within the budgetary constraints they might have."
Emerging nations are of particular interest to BCI. They are often beneficiaries of international investment that is contingent on having certain factors in place: such as a professional team, which in practice may entail international architects.
"Every country has local architects, who know local regulations, so the key is to be able to fill a gap," Vasilache suggests. "To bring an international understanding of standards, and the potential ways to add value added to a project."
Diversity is also a strong suit in winning international work. One of the practice's other Directors is Haitham El Moheen, who studied an MSc at Nottingham after arriving from Egypt. He supervises projects in Egypt and North Africa, where the practice is looking to expand.
"We also have large diversity across the architects we employ," Vasilache reveals. "We are generally perceived as an international practice, which seems to be reflected in our applicants."
Thanks to Marco Ortiz, Director, Emergent Design; Mara Vasilache, Director, BCI Studio.
Text by Neal Morris. This is a Professional Feature edited by the RIBA Practice team. Send us your feedback and ideas
RIBA Core Curriculum Topic: Business, clients and services.
As part of the flexible RIBA CPD programme, Professional Features count as microlearning. See further information on the updated RIBA CPD Core Curriculum and on fulfilling your CPD requirements as an RIBA Chartered Member.
Posted on 18 July 2019.