07 September 2020
Each year, the RIBA Client Services team runs a programme of client-facing activity promoting the benefits of working with RIBA Chartered Practices.
The focus for Autumn 2020 is on private domestic clients – the source of 57% 'by value' of our members' work. We want to raise public awareness of the benefits of employing RIBA Chartered Architects and Practices for residential projects.
The goal of the campaign is for a dramatic increase in client click-throughs to our free online service Find an Architect – the database of all RIBA Chartered Practices.
Launched at the virtual Homebuilding and Renovating Show (26 to 27 September 2020), the campaign has two key elements:
PR campaign based on survey results
This summer the RIBA commissioned a survey of 1,500 homeowners, aged 24 to 64, from across the UK to investigate the impact of the coronavirus pandemic on how people want to live and work at home.
The survey results reveal that homeowners are demanding environmentally efficient properties that better support their new ways of living, as well as their mental health, happiness and family cohesion.
Working with a range of expert spokespeople, including Ben Channon, RIBA Chartered Architect, Head of Wellbeing at Assael Architecture and author of book, Happy By Design, and Eleanor Ratcliffe, Environmental Psychologist and Lecturer at the University of Surrey, the RIBA will be promoting the results of the topical survey and the important role of RIBA Chartered Architects and Practices. There will be media coverage across the UK, including TV, radio, and print.
You can watch Eleanor and Ben discussing the research with Michael Holmes at the panel discussion 'Happiness Through Design', originally recorded for the 2020 Homebuilding and Renovating virtual show.
You can also find out how to use this research to inform both your communication with clients and the design of their homes in this RIBA Journal article.
A digital campaign featuring case studies
Disseminated across all social media channels including Facebook and Instagram, we will also promote three RIBA award-winning projects that get to the heart of the key market-differentiating benefits of employing an architect.
The campaign will run until December and will explore design for sustainability, disabled access, and clever use of space.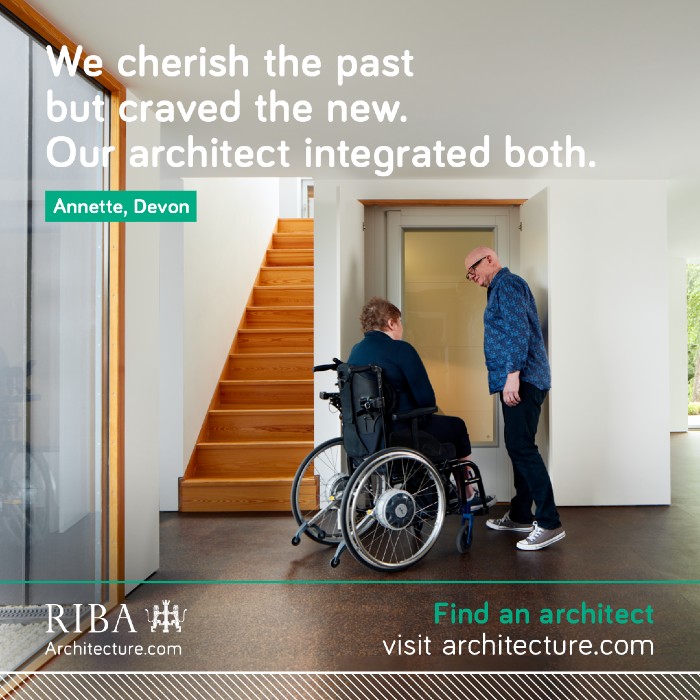 Advertorials
We have been running a series of advertorials in the run-up to the Work with an Architect campaign. Published in relevant sections of The Sunday Telegraph, Saturday Mail and the Guardian, they call on readers to visit the Find an Architect service.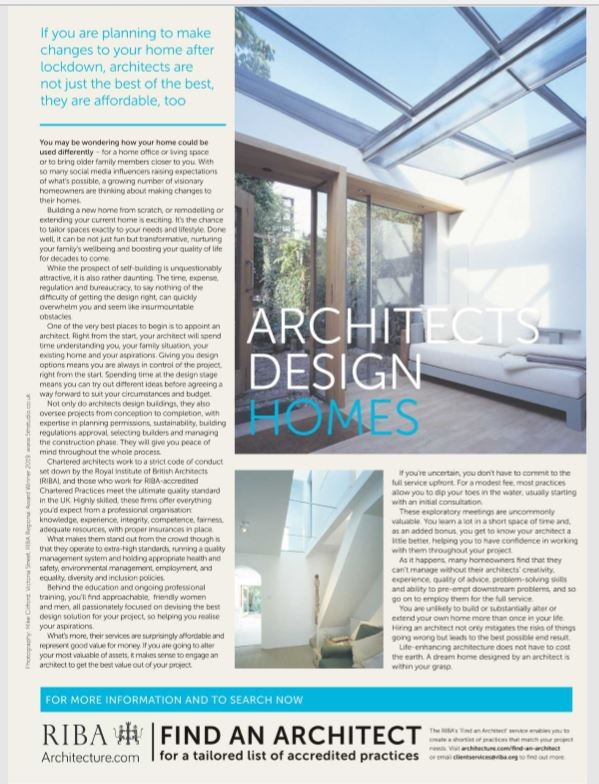 Supporting you - Marketing Toolkit
Available exclusively to Chartered Practices, we have published a free online Marketing Toolkit tailored to your specific needs.
It is packed full of straightforward, up-to-date advice, hints and tips about how best to market your business, and comes with various free templates.
We recommend using the toolkit to help your practice make the most of the client-focused campaign and promotional activities taking place this autumn.
Lastly, remember to keep your Find an Architect profile updated regularly.