Working well with first-time clients
14 June 2018
Building a successful working relationship with first-time clients is a skillset in its own right. Explaining the process and building trust has to precede the business of designing. With the job landed, the new client needs guiding from the outset: expectations need to be managed, timelines and costs explained, and continuous information about project progress provided to keep them on side.
'When we meet first-time clients we undergo an extensive discussion of the services we can offer and how the process works, i.e. the RIBA work stages and the architect's role from that moment on through concept design, planning, detailed design and then onto the construction stage,' says Simon Jewell, Director at Artform Architects.
'Some will have done their own initial research into the role of an architect. The majority, however, are unlikely to have much knowledge, if any, of what a building project entails. We therefore try to give an overview of what is involved without overloading them with too much information from the outset.'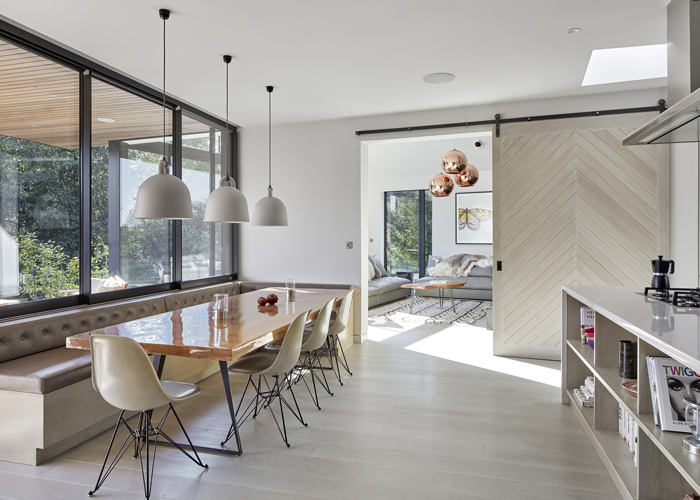 Paula Trindade, Director at Studio Lisboeta, takes the time to break the process down into bite-sized pieces to help clients understand the bigger picture and makes sure she uses clear and straightforward language to avoid misunderstandings:
'It's essential that first-time clients know that they can ask their architect anything related to their project. An open dialogue maintained throughout the project helps the architect build trust and keeps a client well informed.'
Project work stages offer a framework to discuss the appointment of an architect, planning, building control, party walls and the tender process. Trindade points out that the same framework offers the architect an opportunity to foresee the client's concerns and explain what will happen before these can escalate.
Artform Architects is in the process of creating its own 'help sheets' to give to inexperienced clients to explain project milestones from the production of the initial concept design through to tenders, contracts and starting on site.
Architect James Renfrew at Charlie Luxton Design likes to start off by explaining the iterative nature of the design process as a way of honing the brief and gradually zeroing in on a successful design solution, highlighting the vagaries of the planning process and emphasising the importance of monitoring the cost of a design from the start.
A key skill as the project advances, he says, is to walk the client through a scheme verbally and tell them the story of how they got from their words – the initial brief – to what to them might appear as a collection of rather esoteric lines on a piece of paper:
'Often times a drawing which is as clear as day to us might not mean anything to a client. Learning to read drawings can be a really enjoyable part of the process for them, but without the proper support it can also be a source of insecurity and uncertainty.' In the same vein, material samples and hand drawn sketches can be much more effective in explaining a detail than a technical drawing.
Most clients want to get a grasp of build costs even at the earliest stages. Jewell at Artform explains his practice falls back on the broader industry approach of cost per sqm, basing the figure on similar jobs it has undertaken.
Renfrew is careful to caution clients of the unpredictable nature of tender returns early into the planning stage and to emphasise the need for a healthy contingency.
Broaching the sensitive topic of fees can be done in different ways. Trindade at Studio Lisboeta says it can be helpful to start by explaining the principles of putting a fee proposal together before going on to discuss options on the scope of works and what may or may not be included.
Artform is happy to offer free consultations at the outset and then return with detailed fee quotes. If a client asks for an idea of fees from the beginning, it takes care to offer a range that will give an understanding of cost without committing to a figure before considering the project in greater detail.
As always, but especially so with first-time clients, an appointment letter should set out exactly what is included in the fees and what is not. First-time clients can make assumptions about what they will be getting, warns Jewell, so clarity is critical here to avoid relationships breaking down later in the project.
Nigel Ostime, Chair of the RIBA Client Liaison Group, adds that the 2016 Working with Architects survey found that while clients are generally very satisfied with architects' design skills, they need to listen harder to their clients' needs and to communicate more clearly throughout the project.
'This is especially important for domestic clients who are likely to be first-timers and unfamiliar with the design process,' he advises.
Thanks to Simon Jewell, Director, Artform Architects; Paula Trindade, Director, Studio Lisboeta; James Renfrew, Architect, Charlie Luxton Design; Nigel Ostime, Project Delivery Director, Hawkins\Brown.
Text by Neal Morris. This is a Professional Feature edited by the RIBA Practice team. Send us your feedback and ideas
RIBA Core Curriculum Topic: Business, clients and services.
As part of the flexible RIBA CPD programme, Professional Features count as microlearning. See further information on the updated RIBA CPD Core Curriculum and on fulfilling your CPD requirements as an RIBA Chartered Member.
Posted on 14 June 2018.