04 February 2016
The globally-renowned architect Dame Zaha Hadid has this evening (Wednesday 3 February) received the 2016 Royal Gold Medal for architecture, the first woman to be awarded the prestigious honour in her own right.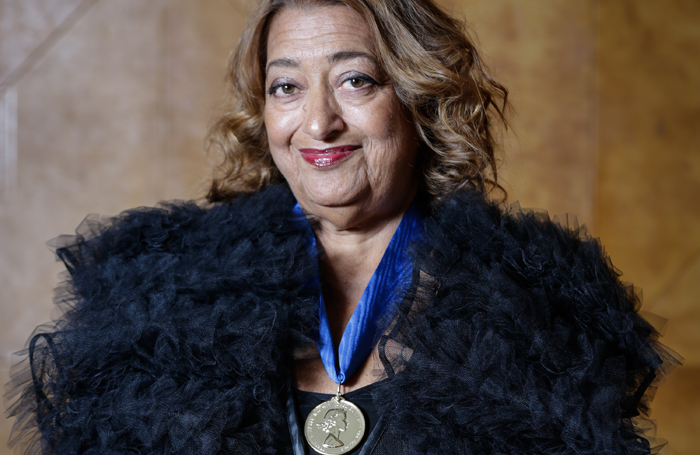 Zaha Hadid is internationally renowned for her built, theoretical and academic work. Each of her dynamic and innovative projects builds on over thirty years of revolutionary experimentation and research in the fields of architecture, design and urbanism.
Given in recognition of a lifetime's work, the Royal Gold Medal is presented by the Royal Institute of British Architects (RIBA) and approved personally by the Monarch and is given to a person or group of people who have had a significant influence "either directly or indirectly on the advancement of architecture". Awarded since 1848, past Royal Gold Medallists include Frank Gehry (2000), Norman Foster (1983), Frank Lloyd Wright (1941) and Sir George Gilbert Scott (1859).
RIBA President and chair of the selection committee, Jane Duncan, said:
"Zaha Hadid is a formidable and globally-influential force in architecture. Highly experimental, rigorous and exacting, her work from buildings to furniture, footwear and cars, is quite rightly revered and desired by brands and people all around the world. I am delighted Zaha has been awarded the Royal Gold Medal in 2016 and can't wait to see what she and her practice will do next."
Speaking this evening, Dame Zaha Hadid said:
"I am very proud to be awarded the Royal Gold Medal, in particular, to be the first woman to receive the honour in her own right. I would like to thank Peter Cook, Louisa Hutton and David Chipperfield for the nomination and Jane Duncan and the Honours Committee for their support. We now see more established female architects all the time. That doesn't mean it's easy. Sometimes the challenges are immense. There has been tremendous change over recent years and we will continue this progress. This recognition is an honour for me and my practice, but equally, for all our clients. It is always exciting to collaborate with those who have great civic pride and vision. Part of architecture's job is to make people feel good in the spaces where we live, go to school or where we work - so we must be committed to raising standards. Housing, schools and other vital public buildings have always been based on the concept of minimal existence – that shouldn't be the case today. Architects now have the skills and tools to address these critical issues."
Born in Baghdad in 1950, Zaha Hadid started her architectural journey in 1972 studying at the progressive Architectural Association in London. She joined her former professors, Rem Koolhaas and Elia Zenghelis, at the Office for Metropolitan Architecture in Rotterdam, where she became a partner in 1977. By 1979 she had established her own practice in London – Zaha Hadid Architects – garnering a reputation across the world for her trail-blazing theoretical works including The Peak in Hong Kong (1983), the Kurfürstendamm office building in Berlin (1986) and the Cardiff Bay Opera House in Wales (1994).
Working with office partner Patrik Schumacher, Hadid's interest is in the interface between architecture, landscape, and geology; which her practice integrates with the use of cutting-edge technologies – the result is often unexpected and dynamic architectural forms.
Hadid's first major built commission, one that catapulted her rise, was the Vitra Fire Station in Weil Am Rhein, Germany (1993); subsequent notable projects including the MAXXI: Italian National Museum of 21st Century Arts in Rome (2009), the London Aquatics Centre for the 2012 Olympic Games (2011) and the Heydar Aliyev Centre in Baku (2013) illustrate her quest for complex, fluid space. Buildings such as the Rosenthal Center for Contemporary Art in Cincinnati (2003) and the Guangzhou Opera House in China (2010) have also been hailed as architecture that transforms our ideas of the future with new spatial concepts and dynamic, visionary forms.
In 2004 Zaha Hadid became the first woman to be awarded the Pritzker Architecture Prize. She has twice won the UK's most prestigious architecture award, the RIBA Stirling Prize: in 2010 for the MAXXI Museum in Rome, a building for the staging of 21st Century art, the distillation of years of experimentation, a mature piece of architecture conveying a calmness that belies the complexities of its form and organisation; and in 2011 the Evelyn Grace Academy, a unique design, expertly inserted into an extremely tight site, that shows the students, staff and local residents they are valued and celebrates the school's specialism throughout its fabric, with student participation at every turn.
Zaha Hadid's other awards include the Republic of France's Commandeur de l'Ordre des Arts et des Lettres and Japan's Praemium Imperiale; in 2012, Zaha Hadid was made a Dame Commander of the Order of the British Empire. She is an Honorary Member of the American Academy of Arts and Letters and a Fellow of the American Institute of Architecture.
Zaha has held various academic roles including the Kenzo Tange Chair at the Graduate School of Design, Harvard University; the Sullivan Chair at the University of Illinois, School of Architecture; guest professorships at the Hochschule für Bildende Künste in Hamburg; the Knolton School of Architecture, Ohio and the Masters Studio at Columbia University, New York; the Eero Saarinen Visiting Professor of Architectural Design at Yale University, New Haven, Connecticut and the University of Applied Arts in Vienna.
ENDS
Notes to editors:
For more information, members of the press should contact Howard Crosskey: howard.crosskey@riba.org 020 7307 3814
The 2016 Royal Gold Medal selection committee comprises RIBA President Jane Duncan with Sir Peter Cook, Neil Gillespie OBE, Victoria Thornton OBE and the 2015 Royal Gold Medallist John Tuomey.
The RIBA champions better buildings, communities and the environment through architecture and our members www.architecture.com @RIBA
The 2016 Royal Gold Medal citation, written by Professor Sir Peter Cook founder of Archigram, the 2002 recipients of the Royal Gold Medal, follows:

In our current culture of ticking every box, surely Zaha Hadid succeeds, since (to quote the Royal Gold Medal criteria) she is someone "who has made a significant contribution to the theory or practice of architecture…. for a substantial body of work rather than for work which is currently fashionable." Indeed her work, though full of form, style and unstoppable mannerism, possesses a quality that some of us might refer to as an impeccable 'eye': which we would claim is a fundamental in the consideration of special architecture and is rarely satisfied by mere 'fashion'.

And surely her work is special. For three decades now, she has ventured where few would dare: if Paul Klee took a line for a walk, then Zaha took the surfaces that were driven by that line out for a virtual dance and then deftly folded them over and then took them out for a journey into space. In her earlier, 'spiky' period there was already a sense of vigour that she shared with her admired Russian Suprematists and Constructivists – attempting with them to capture that elusive dynamic of movement at the end of the machine age.

Necessarily having to disperse effort through a studio production, rather than being a lone artist, she cottoned–on to the potential of the computer to turn space upon itself. Indeed there is an Urban Myth that suggests that the very early Apple Mac 'boxes' were still crude enough to plot the mathematically unlikely – and so Zaha with her mathematics background seized upon this and made those flying machine projections of the Hong Kong Peak project and the like. Meanwhile, with paintings and special small drawings Zaha continued to lead from the front. She has also been smart enough to pull in some formidable computational talent without being phased by its ways.

Thus the evolution of the 'flowing' rather than spikey architecture crept up upon us in stages, as did the scale of her commissions, but in most cases, they remained clear in identity and control. When you entered the Fire Station at Vitra, you were conscious of being inside one of those early drawings and yes, it could be done. Yet at perhaps its highest, those of us lucky enough to see the Heydar Aliyev Center in Baku in the flesh, can surely never have been in such a dream-like space, with its totality, its enormous internal ramp and dart-like lights seeming to have come from a vocabulary that lies so far beyond the normal architecture that we assess or rationalize.

So we are presenting her with this Medal as a British Institution: and as a Dame Commander of the Order of the British Empire: thus she might seem to be a member of our British Establishment. Yet in reality, many of our chattering classes and not a few fellow architects have treated her with characteristic faint praise, and when she heroically won the Cardiff Opera House competition, blocking the scheme. Or when we awarded her the RIBA Stirling Prize for the school in South London – her second win in a row - we, the jury, were loudly derided by a number of distinguished architects. Of course, in our culture of circumspection and modesty her work is certainly not modest, and she herself is the opposite of modest. Indeed her vociferous criticism of poor work or stupidity recalls the line-side comments of the tennis-player John McEnroe. Yet this is surely characteristic of the seriousness with which she takes the whole business: sloppiness and waywardness pain her and she cannot play the comfy British game of platitudinous waffle that is the preferred cushion adopted by many people of achievement or power. Her methods and perhaps much of her psychology remain Mesopotamian and not a little scary: but certainly clear.

As a result, it is perhaps a little lonely there up at the top, surrounded now by some very considerable talent in the office, but feared somewhat and distanced from the young. Yet in private Zaha is gossipy and amusing, genuinely interested in the work of talented colleagues who do very different architecture such as Steven Holl, and she was the first to bring to London talent such as Lebbeus Woods or Stanley Saiotowitz. She is exceptionally loyal to her old friends: many of whom came from the Alvin Boyarsky period of the Architectural Association: which seems to remain as her comfort zone and golden period of friendship. Encouraged and promoted at an early age by Boyarsky, she has rewarded the AA with an unremitting loyalty and fondness for it.

The history of the Gold Medal must surely include many major figures who commanded a big ship and one ponders upon the operation involved that gets such strong concepts as the MAXXI in Rome – in which the power of organization is so clear - or the Bergisel Ski Jump in Innsbruck where dynamic is at last captured – or the Aquatics Centre for the London Olympics where the lines diving boards were as fluid as the motion of the divers - made into reality. And she has done it time and time again in Vienna, Marseilles, Beijing and Guangzhou. Never has she been so prolific, so consistent. We realize that Kenzo Tange and Frank Lloyd Wright could not have drawn every line or checked every joint, yet Zaha shares with them the precious role of towering, distinctive and relentless influence upon all around her that sets the results apart from the norm. Such self-confidence is easily accepted in film-makers and football managers, but causes some architects to feel uncomfortable, maybe they're secretly jealous of her unquestionable talent. Let's face it, we might have awarded the medal to a worthy, comfortable character. We didn't, we awarded it to Zaha: larger than life, bold as brass and certainly on the case.

Our Heroine.

How lucky we are to have her in London."