​RIBA Gulf Chapter
The RIBA Gulf Chapter supports members across the Gulf Cooperation Council (GCC) states including the UAE, Bahrain, Jordan, Kuwait, Qatar, Saudi Arabia, and Sultanate of Oman.
The Chapter has been created to promote design excellence in the delivery of architecture in the Gulf and to add relevance to members working in the region. It is actively engaged with a very significant and diverse number of RIBA and non-RIBA practitioners, to recognise and celebrate the diversity and local culture of members and co-professionals working in the Gulf.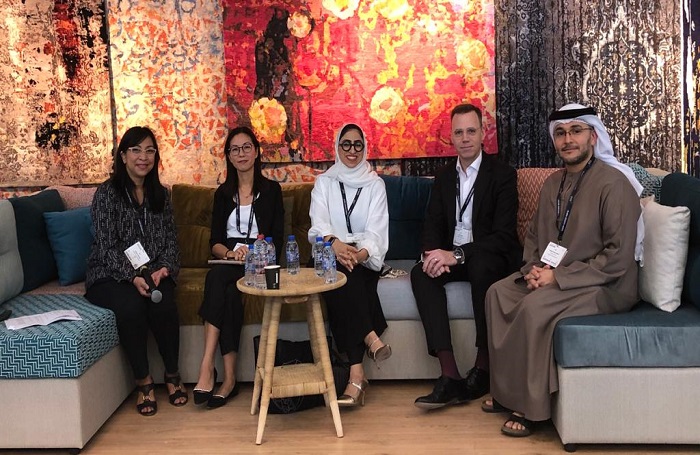 The RIBA Gulf Chapter is planning an exciting set of events for 2021 such as webinars, student workshops, and building presentations to further engage and connect the architectural community in the Gulf.
RIBA Gulf Chapter news and events - Discover all that is happening in the Gulf region in the latest RIBA Gulf News bulletin.
The RIBA Gulf Chapter represents a platform for RIBA members and the wider architectural community. If you would like to take part in, or initiate future events and share your design aspirations, please get in touch with the Chapter Committee who will be pleased to advise you.
RIBA Gulf Honorary officers
Andy Shaw - Chapter chair
Dara Towhidi - Vice chair
Mercedes Gargallo - Treasurer
RIBA Gulf Chapter representatives
Sandra Woodall - UAE
Shaikha Azzam - UAE (vice)
Fariha Ehsanulhaq - Kuwait
Sara Abdulla - Bahrain
Yasmeen Atoum - Jordan
May Al Hinai - Sultanate of Oman
Amy Lam - Kingdom of Saudi Arabia (Jeddah)
Rohan Thotabaduge - Kingdom of Saudi Arabia (Riyadh)
Mark Harris - Qatar
Rishika Chakravarty - Comms and social media
Juan Roldan - Education
Mohamed Amrousi - Education
Matthew Yinka Enirayetan - Events
Ryan Sailsman - Marketing
Anoushka Kolahalu and Alawiya Muhammad - Chapter coordinator
Contact