How the change in office working may affect your insurance policy
In this article, The RIBA Insurance Agency (a trading name of Gallagher), look at how COVID-19 has impacted the way businesses operate and how these changes may affect insurance policies.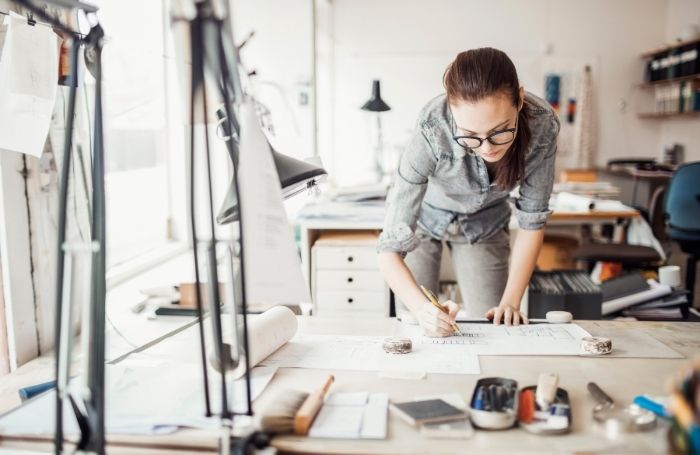 The sudden and unforeseen event of a national lockdown, followed by long periods of both national and localised restrictions, led to a rapid shift from reliance on the use of traditional office space to unprecedented numbers of people working from home. Of course, not all industries, professions or occupations were able to make such changes, but in businesses where working remotely was feasible, the context for homeworking shifted dramatically.
We now have light at the end of the tunnel with a vaccine being rolled out. However, thousands of workers and business owners say they intend to continue with this new way of working due to the benefits it has brought to employees and work/life balance.
In Gallagher research1 amongst bosses of UK companies, 80% said that remote working would continue, with a similar number (76%) saying that their employees were keen to continue working remotely. Leaders of businesses told us that this would bring cost benefits, including lower premises costs, with 29% citing savings, and 28% saying they intend to close premises as they would not need as much space.
Either way, this may have an impact on your current insurance programme and the risk associated with your business.
Employee Welfare
Remote working doesn't come without challenges for business leaders, as they are still liable for many aspects of their employee's welfare whilst they are at home. Employers have a range of health and safety responsibilities for home workers and employers are not excused from health and safety requirements just because the employee is working from home.
But where do the responsibilities of the employer start and finish? The responsibilities of the employer in a remote-working context, depend very much on the work assigned to the employee and the equipment provided by the employer.
Although the Workplace (Health, Safety and Welfare) Regulations 1992 establish the minimum health and safety requirements regarding the physical aspects of a workplace, such as the structural solidity of the building, fire safety and evacuation procedures, temperature and ventilation, this does not apply in the case of workers who are doing their job at home.
Therefore, an employer may not be liable for these matters at the employee's home. However, an employer should still provide sufficient information and must encourage employees to take the necessary steps in order to ensure that their well-being is safeguarded at all times whilst performing their duties remotely.
Unoccupied Offices
Another consideration for those that temporarily vacated their offices, is to check the terms of your insurance policy and in particular any unoccupancy conditions, to ensure you are familiar with the guidelines or terms imposed on you for cover to remain active. Advice from Gallagher is to check with your insurer if you have any questions on their current stance related to unoccupancy limits (typically 30, 45, 60 days and may have been extended due to COVID-19).
Some business owners decided they are no longer going to work full time out of an office, meaning the office may sit vacant for prolonged periods.
If you have changed the way you work, it is vital to ensure the maintenance of buildings is well structured and buildings are adequately protected, both to minimise the risk, but also to ensure that in the event of an incident, you are in a position of being able to make a valid insurance claim.
Finally, where employees have taken business equipment away from the office, it's also important to make sure that your insurance policy extends to cover property and contents on an all-risks basis and with suitable geographical limits that enable you to remain protected whilst your computers and other equipment that are vital to your business is in your employees homes or being moved between home and office if agile working has been introduced.
If you have any questions, or would like to discuss how recent changes to your business may have impacted your existing insurance programme, then please contact The RIBA Insurance Agency by emailing ribaia@ajg.com. Alternatively, you can find out more information on the dedicated RIBA Insurance Agency page.
1. Conducted by Opinium between 26 June and 3 July 2020 amongst 1008 business leaders employing more than 250 people.
*This note is not intended to give legal or financial advice, and, accordingly, it should not be relied upon for such. It should not be regarded as a comprehensive statement of the law and/or market practice in this area. In preparing this note we have relied on information sourced from third parties and we make no claims as to the completeness or accuracy of the information contained herein. It reflects our understanding as at 29 April 2021 but you will recognise that matters concerning COVID-19 are fast changing across the world. You should not act upon information in this note nor determine not to act, without first seeking specific legal and/or specialist advice. Our advice to our clients is as an insurance broker and is provided subject to specific terms and conditions, the terms of which take precedence over any representations in this document. No third party to whom this is passed can rely on it. We and our officers, employees or agents shall not be responsible for any loss whatsoever arising from the recipient's reliance upon any information we provide herein and exclude liability for the content to fullest extent permitted by law. Should you require advice about your specific insurance arrangements or specific claim circumstances, please get in touch with your usual contact at Gallagher or RIBA Business at business@riba.org.