Celebrate Christmas at RIBA at 66 Portland Place with the return of our 'Build Your Own' celebrations!
The last two year's disruption to the Christmas party season means 2022 is set to see festive celebrations return bigger and better than ever before! Countless ideas and plans had to be put on hold, so this year we're once again giving you the opportunity to build your perfect party package by selecting the individual elements that match your taste, budget and requirements.
We are once again running our popular 'Build Your Own' experience – a subtle nod to our architectural roots – starting from £70 + VAT per person. This package is incredibly flexible with multiple F&B options at different price points, that can be selected as a standalone package or in conjunction with another to suit budget and preference. If we can ease the burden of organising F&B, it gives you more time to be creative with theming and entertainment!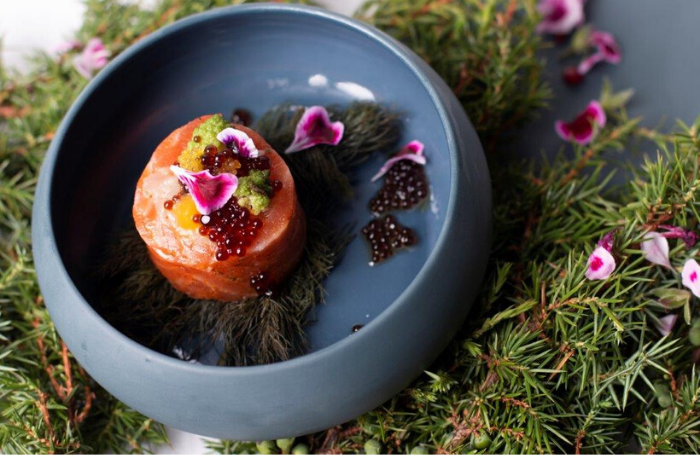 We have three architecturally stunning spaces for Christmas parties at 66 Portland Place – the Florence Hall, RIBA Gallery or Aston Webb Room, or the option to combine rooms if you are going all out for a big celebration. As the venue's principal entertaining space, the Florence Hall features stunning floor to ceiling windows, which fills the room with an abundance of light, glass doors and carved pillars to provide a chic, mid-century backdrop. The expansive space can accommodate all manner of set-ups, from round tables, casual seating, or the inclusion of a dancefloor, and opens onto a leafy roof terrace.
Available to hire on its own or in conjunction with the Florence Hall, the RIBA Gallery features etched floor to ceiling windows and Art Deco detailing, as well as access to the adjacent landing, a triple height atrium space arranged around a grand sweeping staircase. For more intimate Christmas dinners or lunches, the Aston Webb room, which is located on the second floor, is steeped in history and features large windows which fill the room with light and allow for a grand view of the tree-lined Portland Place.
Our festive menus by CH&Co feature a range of flavoursome dishes, made using fresh, seasonal ingredients - from classic roast turkey to exciting alternatives like wild boar or artichoke velouté, followed by decadent chocolate ganache.
If you are ready to get your annual Christmas party back in the diary, contact our team at +44 (0)20 7307 3888 or make an enquiry online to secure your preferred date.