We are excited to host the Cityscape Architecture Workshop: powered by RIBA in partnership with Cityscape Egypt 2023.
Theme: Sustainable Transport Solutions
We aim to give students at RIBA-validated universities a platform to participate in larger discussions and have their opinions heard in the debate on sustainability and architecture. The RIBA and Cityscape student design charette is focused on the link between architecture and sustainability.
A charette is a fast-paced brainstorming session designed to create an original design solution to an issue. It is a powerful, quick, and engaging approach to illustrate how design and place-making abilities can benefit cities and their citizens.

The students should focus on rapid growth of urbanisation and the increasing demand for transportation in Egypt, and to find innovative ways to reduce carbon emissions, promote energy efficiency, and enhance the overall quality of transportation systems. The brainstorming is designed to be a high level, short, focused session to stimulate ideas and design responses. Students should propose one 'big idea or intervention' to tackle one of the most pressing challenges in Egypt: Designing Sustainable Transport Solutions.
Students from three RIBA-validated architecture courses in Egypt (AAST Alexandria, AAST Cairo, and AAST Smart Village) will be participating in this event. Each university includes two teams of four students of their choosing. The teams are encouraged to have students from different academic years in order to foster collaboration and diverse perspectives from within the same university. RIBA believes that Future Architects play a critical role in achieving net zero design and sustainability and that they must be included at the forefront of discussions about these important topics.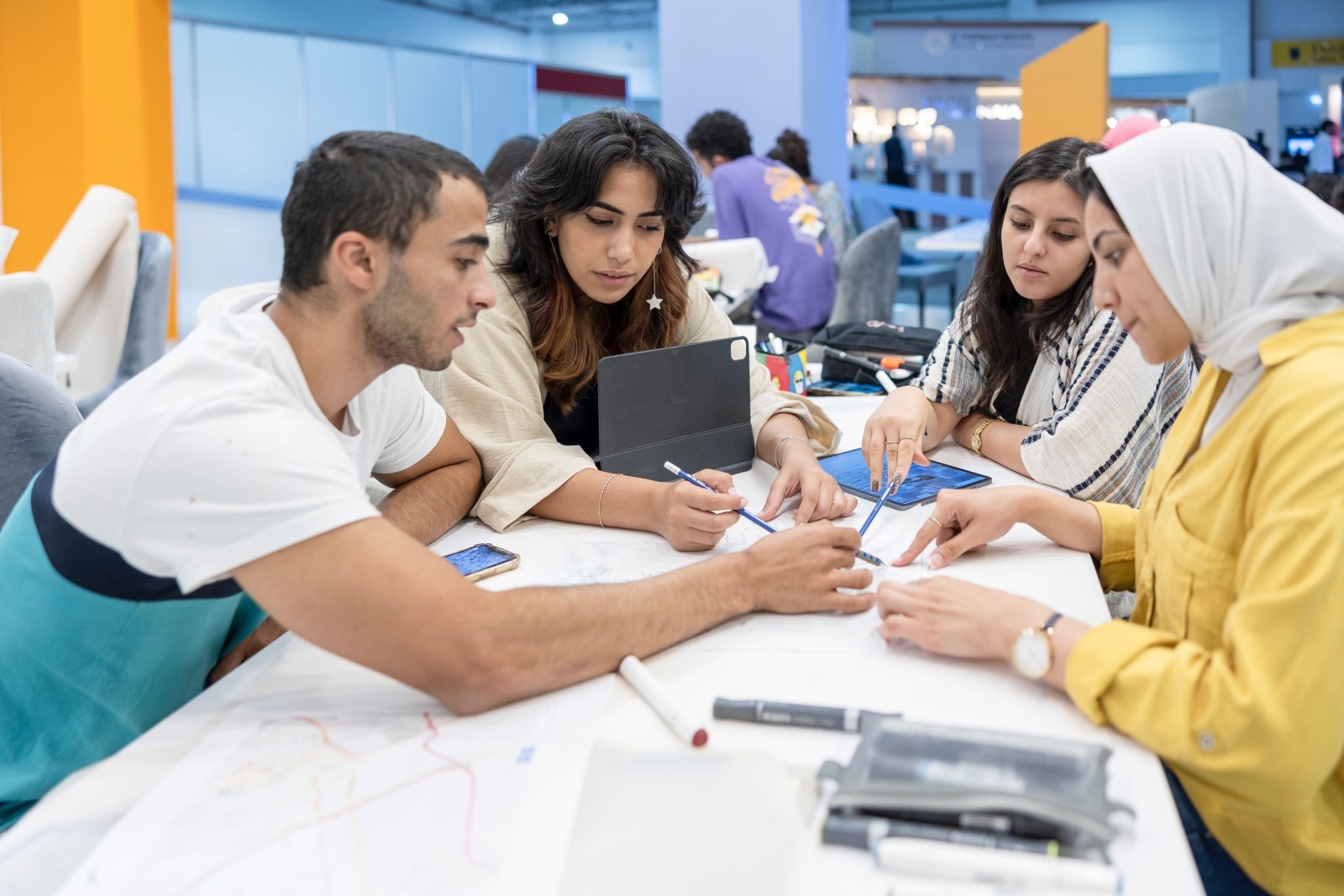 Live design charette at Cityscape Egypt 2022
Workshop Agenda
Live design charette - 22 September, 3pm to 7pm (EET)
Teams have four hours to develop their site ideas and proposals. The brainstorming session is intended to be a brief, focused session to encourage ideas and design responses that will enable the team to build and track proposals and produce materials for review.  In the charette process, there are no right or wrong concepts, and often the most unusual ideas become the most interesting. The brief is purposefully loose to allow teams to shape the day and take ownership of the process.
Live design review - 23 September, 1pm to 3pm (EET)
Following the four-hour design workshop on 22 September, team leaders will present the proposals to the audience of Cityscape Exhibition visitors on 23 September at the live design review for discussion and debate amongst each other and the audience.
Finale
RIBA will collate the six proposals and images into a digital online gallery on the RIBA website. The student works will be featured on RIBA International's social media accounts, and winners will be tagged on all social media platforms to provide a platform for participating students to discuss their work.
Judging panel
Jury Chair - Sandra Woodall, FRIBA, FRSA, AoU, MAPM, Managing Director at TangramGulf, RIBA Gulf Chapter UAE Representative
2nd Judge - Sarah El Battouty, Founder of ECOnsult - Green Architecture, High Level Champions, Global Ambassador UNFCCC
3rd Judge - Mouaz Abouzaid, Founder, Design Principal at Verform
Moderator
Emma England, Head of Programmes Delivery, RIBA
Aldrine Sanchez, Business Development Executive, RIBA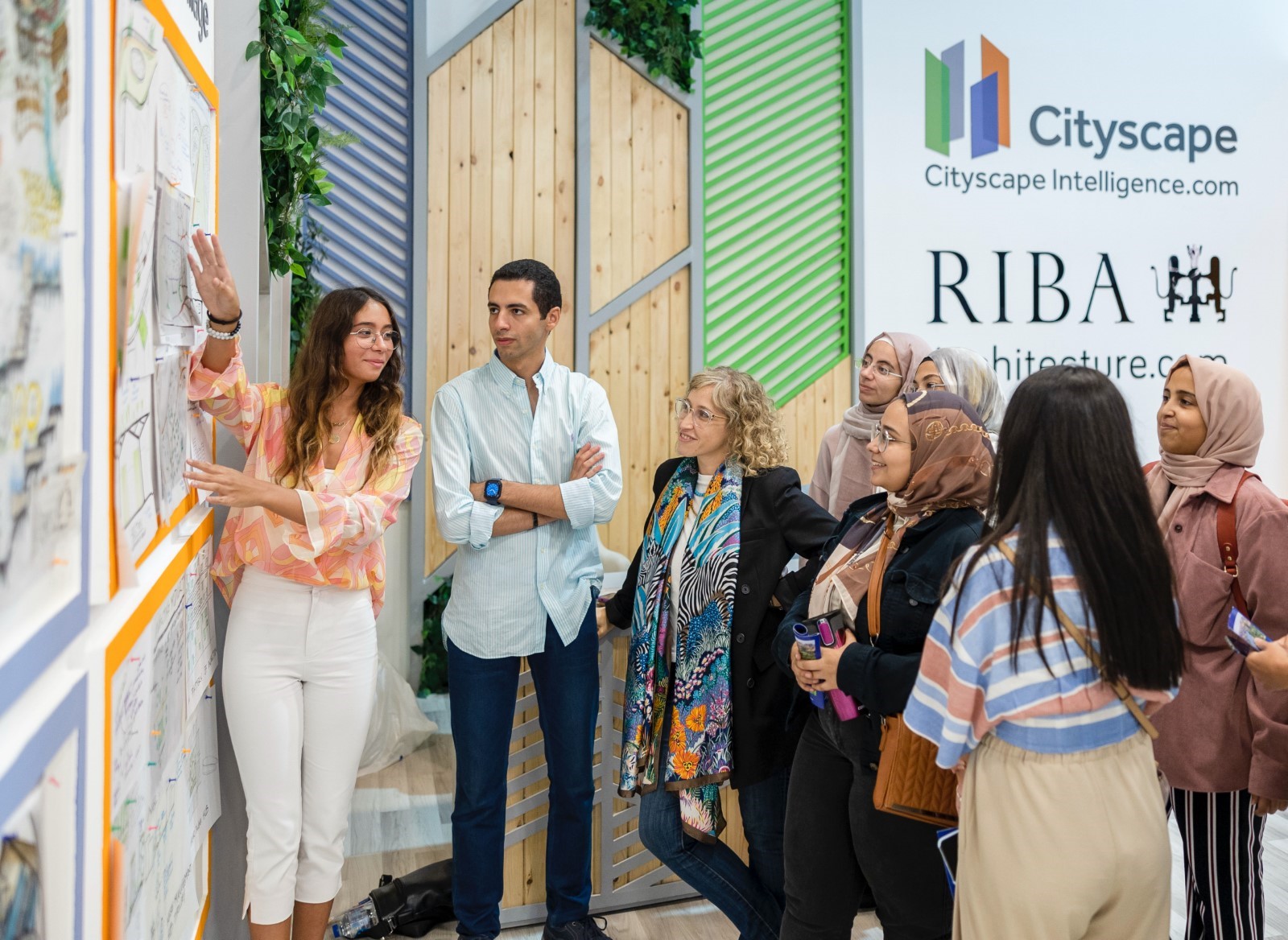 Students discussing their design concept at Cityscape Egypt 2022
Powered by RIBA CPD talks
As part of this exciting event, we are also offering a workshop designed for architects and industry professionals.
Date: Saturday 23 September 2023, 4pm – 7pm
Session One: Reviving the Past | Finding New Life
The presentation aims to emphasize the value of preserving the past while propelling it into the future, showcasing the successful adaptions that have breathed new life into these buildings. By intertwining the concepts of reviving the past and finding new life, this title captures the essence of the projects about the transformative journey undertaken.
Speaker: Mouaz Abouzaid, Verform Design Studio
Session Two: Understanding Conservation Architecture (pre-recorded module)
Do you have a passion for conservation architecture? Do you want to develop specialist knowledge and skills in the field? This session gives information on the role of the conservation architect, conservation accreditation and how it could be applied internally.
Speaker: Janie Price, Kennedy O'Callaghan Architects
Following the above session Belinda Irlam-Mowbray, Director Commercial Programmes and Delivery, will advise the audience of the forthcoming RIBA Conservation Course, delivered online via 6 view on demand modules. She will also seek feedback from the audience on the interest for an international RIBA Conservation Course and Cairo-specific site visit day to accompany the course.
Session Three: Climate Resilience
A talk based on the liberation of green building from industrial myths. Advocating how architects can be relevant in the age of AI by solving beyond the programme and plan given by clients. That without environmental and social impact, design remains exclusive and decoupled from the needs of humanity.
Speaker: Sarah El Battouty, Architect
Session Four: Designing Sustainably
An overview of the factors to be incorporated as we equip ourselves to apply the core principles of sustainable development to the design of our buildings and cities.
Speaker: Sandra Woodall, FRIBA, Tangram Architects
View Powered by RIBA CPD talks full programme and speaker details (PDF)
Please note that registration is with Cityscape, and the information you provide is directed to Cityscape for the purpose of registration to the event.
In partnership with Cityscape.