​Architects in Derby
If you're looking for home design in Derby, hiring an architect is the secret to getting a home magically tailored your tastes, needs and wishes.
Whether the brief is for a new home design, house extension or loft conversion, architects bring something different to the table. Their long years of formal education and practical experience mean that you can take the quality of their designs for granted.
If you've plenty of room to expand, they'll fulfil its potential. If your existing home is more constrained, they can conjure extra space from nowhere, imagining clever solutions or reconfiguring existing layouts to realise your plan for a new lifestyle.
The RIBA accredited architecture firms in Derby don't just design great homes. They also run quality and environmental management systems, work to an ethical code of professional practice, and of course hold the necessary level of insurance. In short, they offer the highest level of quality assurance there is.
There are many reasons to invest in a home renovation or house extension project, but one thing is certain: it's likely to be a significant investment. This can be nerve-wracking, especially if you're managing a building project for the first time.
That's why it pays to hire an architect. They are more highly trained and regulated than any other building designer or construction professional. Having one on your side will not only give you a high-quality design, it will give you peace of mind, too.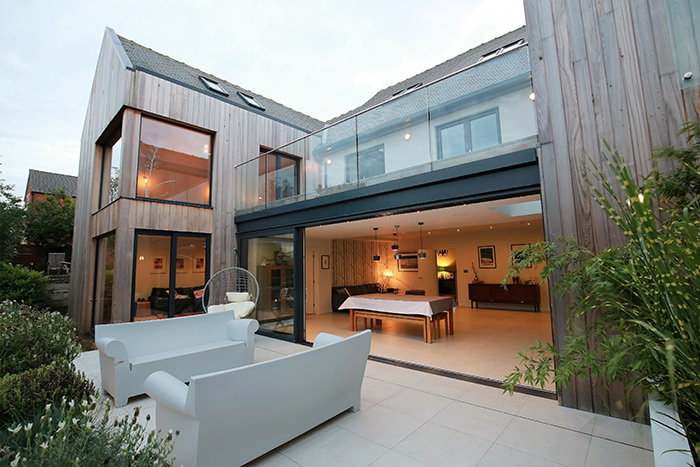 We asked Derby based RIBA Chartered Practice
Simon Foote Architects

, why an architect is a must have when considering changes to your home design.
There are many non-architects out there trading as architectural or building designers. With so much choice available, why is it important that people work with a qualified architect?
An architect has trained in their profession for seven years and must be registered with the Architects Registration Board (ARB), which was put in place to legally regulate who can call themselves an architect.
Architects are highly skilled experts, yet their full range of skills can often deemed by clients as an unnecessary additional cost as they are designers just producing pretty pictures. However, in actual fact an architect can offer much more value to your project by managing the whole process from start to finish - leaving you confident that your project is being managed by a competent professional.
Architects also have a unique understanding of the entire process and can therefore advise on areas such as building regulations, legalities, contracts and insurance coverage. They'll offer you a range of services to suit your individual requirements and ensure you have peace of mind.
What are the typical milestones in a house extension project? How do you help a client reach these?
We use the RIBA Plan of Work for all projects which acts as a framework to help set milestones that are clear and easy to understand. Not all steps are necessarily required, depending on the type of work your project requires, but it outlines the options available to you depending on the needs for your project.
Often the budget for a house extension will be tight. What do you advise your clients to focus on in order to make the most of their budget?
Having a realistic budget and understanding what is achievable within this budget is key to a successful outcome. Although it may not be easy to establish a budget, it's essential one is discussed from the outset so everyone is clear what they are working towards.
No project is the same so each has to be costed specifically to its unique requirements. In order for this to be accurate working drawings should be developed to ensure construction costs are reliable. However, this does not mean they are set in stone. Variables such as contractor availability, building work start dates and the complexity of the design and detailing can all have an impact on the budget, so there should be a realistic contingency allocated. Also watch out for adding in features that are not necessarily 'architecture' but can really increase the costs such as balconies, stairs and kitchen fittings. A good architect will help you monitor the budget and flag up anything that is likely to have an impact on construction costs.
If you'd now like to talk to an architect, use our Find an Architect service to search for architects in Derby.