​Architects in Nottingham
If you're looking for home design in Nottingham, hiring an architect is the secret to getting a home magically tailored your tastes, needs and wishes.
Whether the brief is for a new home design, house extension or loft conversion, architects bring something different to the table. Their long years of formal education and practical experience mean that you can take the quality of their designs for granted.
If you've plenty of room to expand, they'll fulfil its potential. If your existing home is more constrained, they can conjure extra space from nowhere, imagining clever solutions or reconfiguring existing layouts to realize your plan for a new lifestyle.
The RIBA accredited architecture firms in Nottingham don't just design great homes. They also run quality and environmental management systems, work to an ethical code of professional practice, and of course hold the necessary level of insurance. In short, they offer the highest level of quality assurance there is.
There are many reasons to invest in a home renovation or house extension project, but one thing is certain: it's likely to be a significant investment. This can be nerve-wracking, especially if you're managing a building project for the first time.
That's why it pays to hire an architect. They are more highly trained and regulated than any other building designer or construction professional. Having one on your side will not only give you a high-quality design, it will give you peace of mind, too.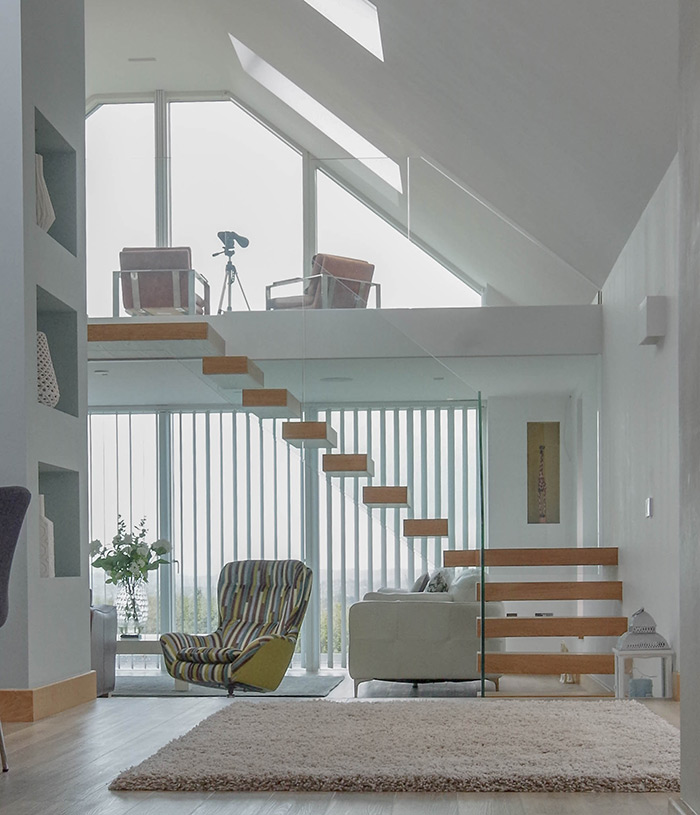 We asked Nottingham based RIBA Chartered Practice Julian Owen Associates, why an architect is a must have when considering changes to your home design.
There are many non-architects out there trading as architectural or building designers. With so much choice available, why is it important that people work with a qualified architect?
Architects are able to produce the best possible design for your money. As well as high level design skills they have extensive knowledge of building construction which ensures that their ideas are practical and buildable.
The title use of the title 'architect' is protected by law and can only be used by professionals who are registered with the Architects Registration Board (ARB). To register, they must complete a seven-year training course. 'Architectural Designers' and those with similar titles have a lot less training or may even be completely unqualified and unregulated.
Architects offer wide range of services usually on a 'pay as you go' basis from a menu of options to suit your needs from initial feasibility advice through to the management of the builder on site.
A professionally prepared set of drawings is essential to get reliable, accurate prices from builders because it ensures you get the best value for your money and also greatly reduces the risk of the cost increasing after building work has started.
Architects have a code of conduct that requires them to be honest and competent. For example it forbids them from accepting commissions or other inducements that are offered to specifiers by builders and suppliers and are secretly used by some unregulated designers to make extra profit at your expense.
What are the typical milestones in a house extension project? How do you help a client reach these?
Architects offer a range of services to their clients, from the early stages through to checking for defects after the building has been lived with for several months. Clients are free to choose those which are most appropriate to their project.
Brief and Site Appraisal
Before starting work on a design, the architect will wish to learn as much about the constraints and features of the site and property, as well as your needs and aspirations A realistic look at the budget is also important.
Measured Survey
This is essential for work to an existing building, and is should be carried out at the beginning of the project. If planning permission is required, a full set of elevations and plans of the existing building and proposals may be needed.
Sketch Design
Using your brief your architect will prepare sketch designs for the alterations to your house, showing plan arrangements, layouts and external appearance. From these sketches, with your architects' advice, you will develop the design together.
Planning Application
Whilst working on your design, your architect may consult with the planning department at the local council to assess whether your developing house design is likely to gain planning permission (if it is required). Your architect will then produce detailed drawings of your proposals, suitable for a planning application. Most local authorities charges for this preliminary advice.
Building Regulations
A 'Full Plans' Building Regulations application is a set of drawings, calculations and specifications describing the basic construction of the work. The proposals must to comply with the Building Regulations in order to be allowed to be built.
Tender Package
Drawings and Specifications for tender provide as much detail as is practical to obtain fixed prices from builders. The drawings show the detailed design and arrangement of the building components and usually include details such as the stairs, fireplaces and the internal fittings. The specification documents describe details of materials and construction as well as the fixtures and fittings.
Contractors
Your architect can prepare building contract documents which are essential to protect your investment once work commences. They state the responsibilities of both parties, the extent of works included in the price, start and completion dates, and some give you the power to have inadequate work rebuilt before you pay for it.
On Site
The architect can monitor the construction of the work. Regular visits are made to the site to make spot checks on the quality of the work. The architect records any amendments to the original scheme, monitors the programme and approves payments to the builder.
Often the budget for a house extension will be tight. What do you advise your clients to focus on in order to make the most of their budget?
The most challenging aspect of a home alteration project is managing the budget, but there are a few simple rules to follow that will help you to do this successfully. The first is to recognise that before any drawings have been prepared, no one can tell you reliably what the proposed alterations will cost. Architects can at least give you an indication of whether you are in the right 'ball park' by comparing similar designs they have completed in the past with yours and by using pricing books that indicate typical costs.
At early the sketch design stage your architect may be able to persuade some local builders to suggest approximate costs, but the only way to get an accurate price is to give them detailed drawings and specifications. Provided that the tender package has been professionally prepared and a reliable builder has been selected, the price agreed when work starts should not increase significantly. Having said that it is essential to keep a contingency sum in reserve for unexpected extras, typically 10% to 15% of the contract price.
If you'd now like to talk to an architect, use our Find an Architect service to search for architects in Nottingham.