Hauxley Wildlife Discovery Centre
Hauxley Wildlife Discovery Centre was featured in our report, Design Matters: Good Design Doesn't Cost the Earth. It is an example of how the use of local materials combined with local volunteers can make a truly sustainable building.
The use of local materials in Hauxley Wildlife Discovery Centre was outstanding. Locally quarried stone was used in the structural gabions, clay from roadworks nearby was used to create the rammed earth flooring and straw bales from local farms were used for the walls. This has resulted in a zero concrete building that significantly reduces embodied carbon and provides a healthy internal environment. In terms of process, this was an architect led design and build project delivering a deep green building with significantly less cost and community involvement including over 26,000 hours given by volunteers. The restored and recreated habitats interconnect the landscape so visitors can have one of the best wildlife viewing experiences.
Speaking about the project, Henry Amos, Brightblue Studio Director, said: "The project has encouraged us to develop flexibility as the fundamental approach to all our building processes, as this project proved you could build an ecological award winning building for half the money of a conventional build. With the will, and the interest to adapt, there is a better, kinder, cheaper way."
Hauxley Wildlife Discovery Centre won a 2018 RIBA North East Award, RIBA North East Client of the Year and RIBA North East Sustainability Award.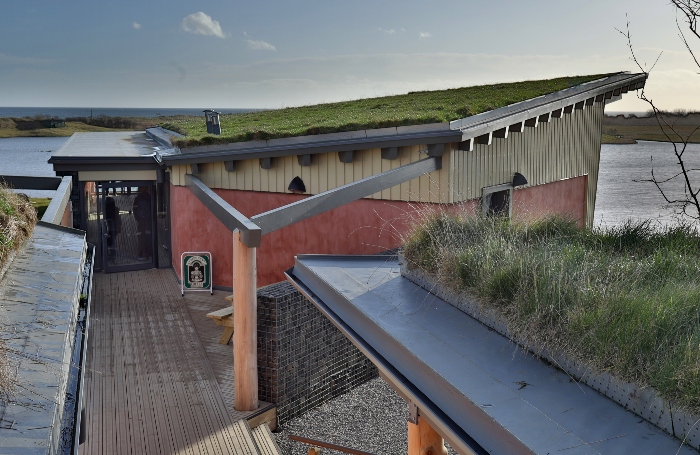 Building information
Location:

Low Hauxley, Northumberland

Architect: Brightblue Studio
Client: Northumberland Wildlife Trust
Contractor: Brightblue Studio
Structural Engineer: Pittilla Bell Consulting Ltd