Redesigning Prison - the Architecture and Ethics of Rehabilitation
Roland Karthaus, Anthony Hu & Lucy Block, Matter Architecture

Awards RIBA President's Awards for Research 2018
Category Ethics & Sustainable Development (Annual Theme)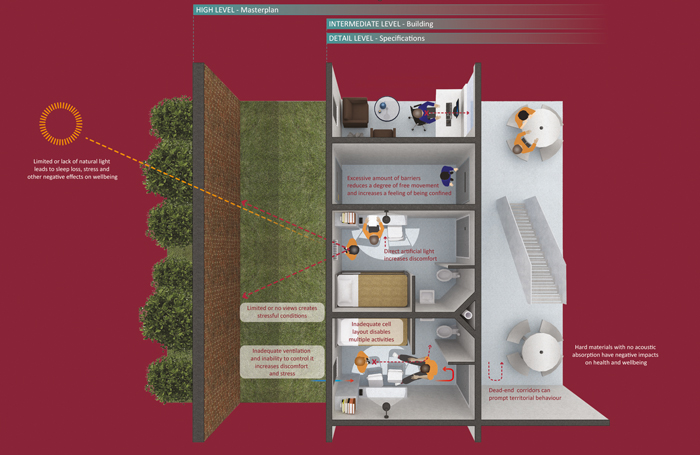 Since 2011, the author has been undertaking research-based activity to improve the environment of prisons for the people and communities they serve. Spanning two major projects concluding in 2017, the work has developed an evidence-base and practical proposals for design measures to support health and wellbeing, reduce reoffending and make the state assets of land and buildings more effective in delivering outcomes.
Previous work in this area has tended to propose alternative architectural models to the status quo, often informed by exemplary case studies from around the world. The author's approach has been to engage proactively in existing practices for the commissioning, design, management and operation of the prison estate in the UK with the goal of influencing these to improve outcomes.
Prisons sit within the wider regime of Justice in the UK and as such the organisational and operational context is key to the delivery of change in commissioning and design. A multidisciplinary, collaborative approach has been pursued, via small groups of experts to ensure the work is properly informed. Extensive stakeholder and user engagement has been central to the research, including with prison officers, management and staff, as well as prisoners. A digitally distributed survey on the psychological impact of prison architecture was completed by 305 men in custody at HMP Berwyn and is believed to be the first of its kind in the UK.
The work has significantly contributed to the prison reform agenda, though the architectural outcomes are yet to be realised. The paper argues that for true reform to be effective and sustainable, a reappraisal of the ethics of justice that reconsiders the status of people on custodial sentences is necessary. The current circumstances make such a public debate timely and capable of precipitating the proposed changes.