Ethical implications of experimental design on affected communities in the Gaza Strip, Palestine
Dr Salem Al Qudwa, School of Architecture, Oxford Brookes, UK
Awards RIBA President's Awards for Research 2021
Category Cities and Community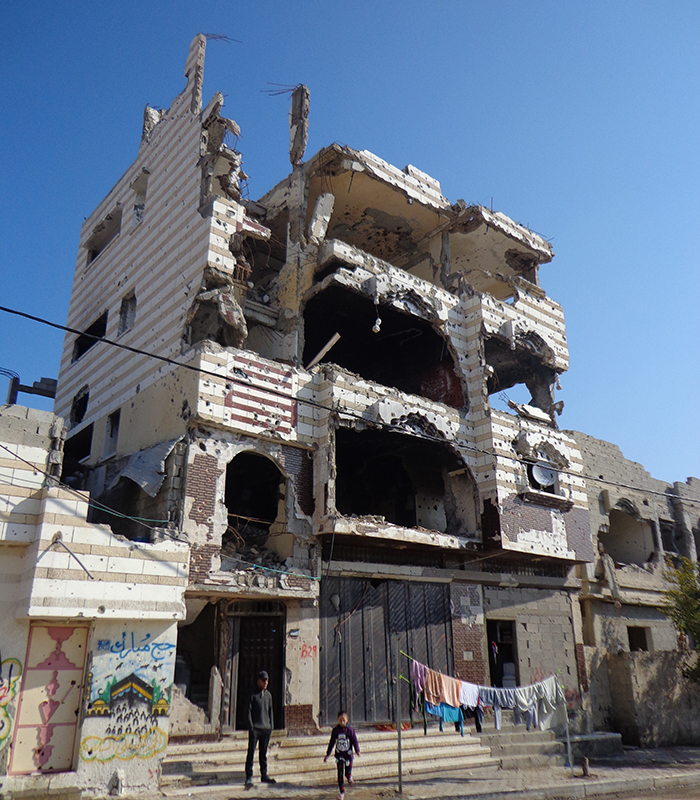 Annihilation in Gaza has become so frequent that houses are being built, destroyed and reconstructed all at the same time. The inconsistencies between how the home is viewed as an ideal and as a lived experience affect how people in conflictual surroundings define it. Regarding housing, Gaza's ongoing emergency situation has attracted more experimental structures, built by international aid organisations. The combination of Israeli military events and the construction of temporary makeshift shelters have resulted in substantial demographic and social changes, especially for low-income extended families.
This research examines experimental architectural technologies and transitional design for communities in Gaza. Three key questions inform this research: What is the social role of architects and international aid organisations in addressing Gaza's housing challenges and struggles? What are the ethical implications of experimental architectural technology and design on behalf of the affected communities in Gaza? And, what is the appropriate housing design for marginalised communities that will respect their cultural understandings and engage them over time? The research further draws on my architectural background, linking emergency and architectural site-work to fieldwork research and thus exploring the potential of social and physical mapping as research tools. To identify the fundamental reconstruction constraints for low-income extended families in rural and marginalised areas, a design-based case study of the Rehabilitation of Damaged Houses project is featured as a critical appraisal of one of my related projects undertaken in Gaza.
This research is a contribution towards the reconstruction process in Gaza and making a qualitative change that lays the foundation for future efforts by Gazans themselves. Although the focus of this research is on Gaza, its findings will benefit reconstruction efforts in other conflict zones in the Middle East where human displacement is a defining problem and post-conflict reconstruction of the built environment is an urgent need.