Between, below, behind: An ontology of small urban spaces in Hong Kong
Dr Ivan Valin, Xiaoxuan Lu, Susanne Trumpf, The University of Hong Kong
Awards 2019 RIBA President's Awards for Research
Category Cities & Community
This research received a commendation for the 'Cities & Community' category in the 2019 RIBA President's Awards for Research.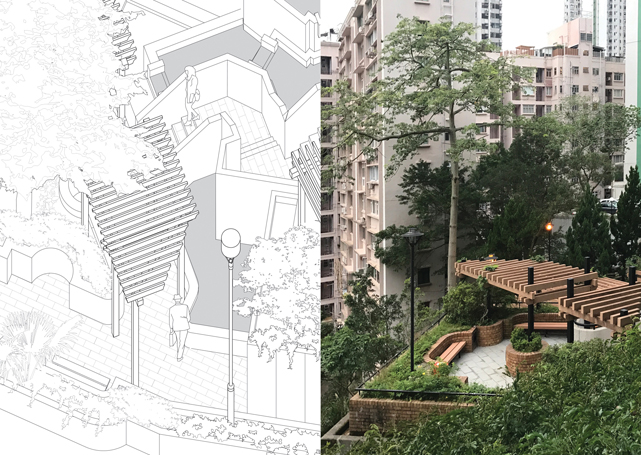 Hong Kong, with some of the most valuable land in the world, is planned and built-out to shockingly high densities. But between the towering complexes and along the steep hillsides, a different urban form emerges: small parks called Sitting-out Areas are miniature interventions in an otherwise monumental Hong Kong and reflect another narrative for the city. Referred to as 三角屎坑 ('saam kok see hang'), literally 'three-cornered shit pit', most Sitting-out Areas feature little more than, eponymously, a place to sit. In their abundance, they are an exercise in repetition: government planners have opted for expediency of implementation and maintenance through the reproduction of boilerplate assemblies and standardized details. More than 500 Sitting-out Areas and Rest Gardens form the smallest features in the city's network of public open space. Hard-to-find and overlooked, their ubiquity gives them an outsized impact and suggests a latent potential to operate as a landscape network.

This research posits a critical exploration of these undervalued open spaces, offering a comprehensive survey of their forms and impact on public life, community, and ecology. Focusing on the dense urban areas of Kowloon and Hong Kong Island, 105 sites were thoroughly documented. Provisional typological categories synthesize the broader analysis and explain the strategic approaches taken toward context and program. The work anticipates ways in which these spaces might be leveraged for tactical improvements to the public realm. Original drawings and models were produced to disseminate the results in a series of public exhibitions and conference presentations, while the complete work is being compiled in a forthcoming monograph. The research on small open space contributes to a larger debate on the form, function, distribution, and accessibility of public space in high-density urban settings and seeks opportunities by which design planning might counteract the general erosion of public-ness in the contemporary city.