Investigating Urban Conflict and Reciprocity Between Chicala and Luanda, Angola
Dr Paulo Moreira, London Metropolitan University/University of Lisbon
Awards RIBA President's Awards for Research 2019
Category Cities & Community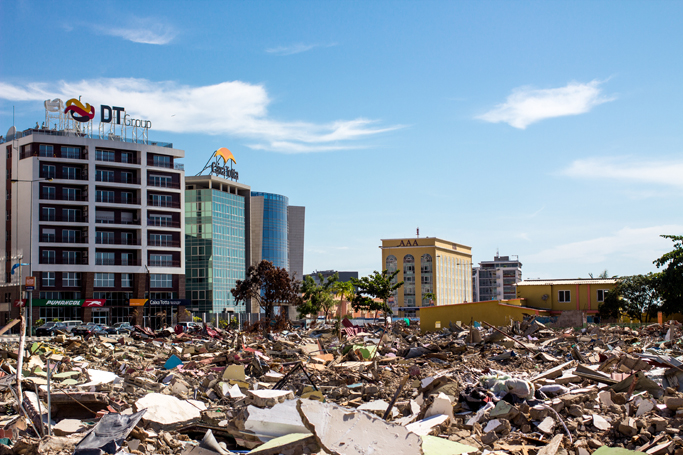 At the heart of this research is an investigation of the reciprocal relationship between the city of Luanda, capital of Angola, and one of its central informal neighbourhoods, Chicala. The particular geographical location of Chicala, along with its integrity and specific development, made the neighbourhood vulnerable to colonial invasions, and more recently to aggressive urbanism and large-scale masterplans.
In the context of Luanda's current neoliberal trajectory of urban regeneration following a protracted civil war (1975-2002), Chicala is undergoing a process of demolition and replacement by high-standard real estate developments. The research began shortly before plans for the complete erasure of the neighbourhood were implemented and local authorities forcefully displaced its inhabitants to remote settlements with unsuitable living conditions.
The research aims to write Luanda's urban history afresh by forging a place for the neighbourhood of Chicala and its wider context in the city's urban order. Documentation of the characteristics of a neighbourhood on the brink of disappearing required a collaborative methodological approach, and a reflection of how architects can operate in such complex urban settings. The thesis aims to go beyond a mere exploration of informal architectural order; rather, it is a contribution to understanding Luanda, and to understanding postcolonial cities in general in all their depth.
The research uncovers a set of relationships between the neighbourhood and the city, emphasing the 'hybrid' nature of Chicala as part of a larger context, both in architectural and urban terms.
At a time when thinking on postcolonial cities is moving towards seeking to accept and understand informal neighbourhoods, rather than to ignore or eradicate them, this research presents a thorough experiment on the ground which contributes to the development of new collaborative approaches to the subject in the architectural field.