Hans Hollein: Postmodernism Culturally Reconsidered
Dr Eva Branscome, University College London

Awards RIBA President's Awards for Research 2019
Category History & Theory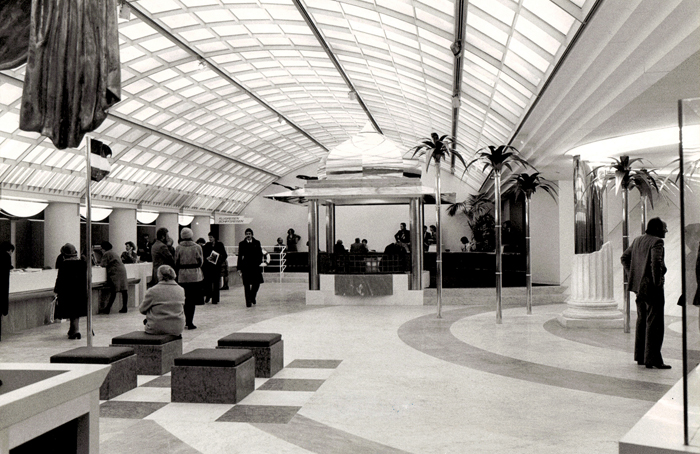 With the re-examination of Postmodernism now widespread in many countries around the world, this research offers an innovative and expansive investigation of Austria's artistic and architectural scene from the 1950s to 1980s. Specifically, it focuses upon the Viennese artist/architect, Hans Hollein, the 1985 Pritzker Prize-winner and widely regarded as the foremost post-war Austrian architect, yet now largely overlooked.
The background to this study sits squarely within the context of Austrian re-education initiatives by Allied forces, especially the USA. Austria's proximity to the 'Iron Curtain' and occupation by four foreign powers created a heightened sense of Cold War tension. In an Austrian cultural scene still steeped in Catholicism, American cultural influences like Abstract Expressionism and Action Painting were transformed in remarkably original ways. One such outcome, Viennese Aktionism, directly affected architectural thinking through its shock-tactic 'performance environments'. In Vienna, the circles of radical artists and architects were not distinct, with Hollein's famous statement that 'Everything is Architecture' symptomatic of this creative intermixing.
Mixing discourse analysis, archival research and oral interviews, this study shows that Hollein's diverse contribution across architecture, art, writing, exhibition design and publishing necessitates a more complex and nuanced account of architectural Postmodernism than that offered by figures like Charles Jencks or Heinrich Klotz. Hollein's outputs are viewed not as individual projects that architectural critics could appropriate for their own agendas, but as examples of Austria's efforts to redress its Nazi past and establish a post-war cultural identity.
While Hollein's concern with the obsolescence of architecture and its replacement by mass media corresponded with Postmodernism generally, in other respects his ideas were rooted in the violent and self-destructive practices of the Austrian avant-garde and its attitudes towards politics/religion/sex/ technology/infrastructure/advertising. If these broader cultural aspects are included within the Postmodernist canon, then our understanding of the phenomenon requires substantial revision.