​​RIBA President's Awards for Research submission guidelines
The RIBA is welcoming entries for the 2018 President's Awards for Research from 7 March 2018 until 3 June 2018, which includes the RIBA President's Medal for Research.
All applicants must read the full Submission Guidelines document before submitting their work. If you still have questions about the Awards, please email research@riba.org or call a member of the Research and Innovation team on 020 7307 3714.
Entry categories

The RIBA President's Awards for Research has four categories:
Annual Theme - Ethics and Sustainable Development
Design and Technical
Cities and Community
History and Theory
Judging Criteria
Entries to the Awards are assessed in two stages: shortlisting (this is anonymous, based on the abstract and research statement) and final judging, which draws on the full research document. At both stages, the entries are judged against the following criteria:
Originality
Rigour
Impact
Communication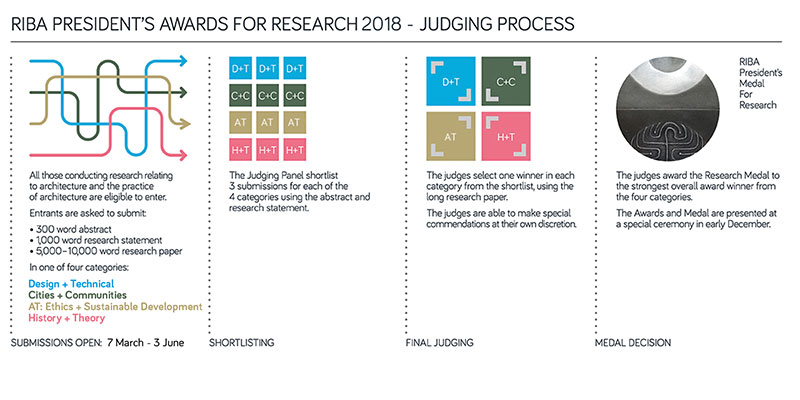 Submissions
All submissions must be entered online.
The main body of the application requires the submission of:
300 word Abstract
1,000 word Research Statement
5,000 to 10,000 word Research Document - maximum of 12 images
The main Research Document should be uploaded preferably as a PDF of less than 10MB; a Word Document will be accepted. The Abstract and Research Statement is entered as text into the online application form.
Applicants must have the permission of the copyright owner for each image submitted and include the copyright in the image caption.
Abstract and Research Statement
Both the Abstract and Research Statement will be used to shortlist submissions. Therefore, it is essential that these be given careful thought and consideration.
Applicants must redact all self-citations in their Abstract and Research Statement and omit all other identifying information including names, affiliation and forthcoming articles as they will be blind peer-reviewed.
The Abstract should summarise the main aims, methods and findings of the research. The Research Statement should provide an overview of the research under the following headings:
Context
Questions, aims and arguments
Resources, data and methodology
Analysis and findings
Impact, significance and outputs
Main body of work
The main body of work must consist of only one document between 5,000 and 10,000 words long and may contain a maximum of 12 images (this limit is applied to facilitate and control the cost of publication). The main body of work will be considered in the final stages of judging, should it pass the shortlisting stage, hence it is crucial that it be a clear and concise piece of work.
Eligibility
All those conducting architectural and built environment research related to architecture and the practice of architecture are eligible to enter the RIBA President's Awards for Research.
Please note that free entry to the Awards is available only to registered RIBA members and institutions. Please see the section on entry fees below.
Eligibility period
The Awards are for research completed between 1 January 2017 and 3 June 2018.
Entry fees
Free entry to the Awards remains a Member benefit for:
RIBA Members (Individual Members, Chartered Practices, Academic Member Schools, Affiliate Members, Friends of Architecture and Patrons)
postgraduate students at validated schools
RIBA Student Members (students studying RIBA Part 1 and 2 at validated schools are eligible to join the RIBA for free)
For all other entries, fees are:
non-RIBA students: £25
University/Academic: £50
non-RIBA practices: £50
other businesses/organisations: £50
Timetable
Call for submissions
7 March 2018
Submission deadline
Sunday 3 June 2018 - Midnight
(British Summer Time - BST)
Notification of shortlist
October 2018
Notification of winners
November 2018
Award ceremony
December 2018