High Sunderland
by Loader Monteith
Client Juliet Kinchin and Paul Stirton
Awards RIAS Award 2022and RIBA National Award 2022 (sponsored by Forterra)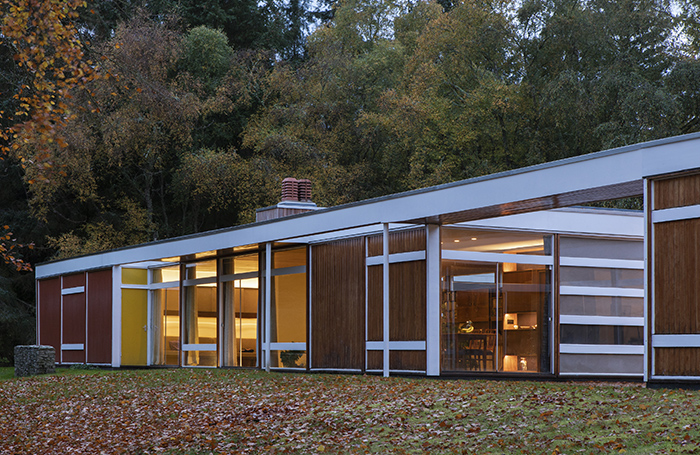 While undergoing basic repairs after selling for the first time in 2017, High Sunderland, the 1957 Category-A listed modernist icon designed by Peter Womersley for Bernat and Margaret Klein, suffered extensive structural and surface damage when a small fire broke out. Steel roof trusses, insulation, and much of the original timber panelling was destroyed in the accident by a combination of fire and extinguishing water, and wooden and original Klein fabric finishes in the main living room and master bedroom were damaged by smoke.
High Sunderland's new owners, Juliet Kinchin and Paul Stirton, both Scottish historians of architecture and design, immediately recognised the house as a building of national importance, viewing themselves as custodians, rather than owners, of the home. The devastating accident was taken by Juliet and Paul as a positive opportunity to accurately restore and enhance the energy efficiency of the modernist icon, preserving its legacy for years to come.
An intense period of damage appraisal ensued upon appointment, led by Loader Monteith's conservation specialist, Iain King. In researching the project, Loader Monteith found original construction details in a 1959 Swiss periodical, giving the studio unique access to Wormesley's vision for the house and the opportunity to identify where changes had occurred over time.
Loader Monteith forensically sifted through the debris, recording the entire structure and salvaging as much of the original material as possible both for reuse and future reference. Original walnut panels, fitted furniture, timber floor, wall finishes and ceiling were saved. The building was made wind and water tight and slowly dried out to maintain a balanced humidity level and to prevent condensation forming on the surviving fabric. The architects' in-depth research and dedication to preservation was evident in the planning application, which both the South Borders Council and Historic Environments Scotland wholeheartedly supported.
Loader Monteith contended with two challenges; listed building restrictions and modern building regulations. The original flat cold roof needed to be upgraded to a warm roof in line with contemporary insulation requirements, but this meant designing a new pitched roofscape to accommodate new insulation. The architects studied Womersley's entire portfolio of edge details on his other houses, resulting in a compromise close to the original.
With planning secured, Loader Monteith turned to a trusted team of contractors including Crick Smith, specialist material conservationists, who worked to decontaminate, recover and clean damaged surfaces. Main contractor Laurence McIntonsh collaborated closely with Crick-Smith, restoring book matched panelled walls and joinery with precision.
Structural engineers David Narro Associates and M&E Consultants Harley Haddow worked closely with Loader Monteith to integrate modern sustainable systems including an Air Source Heat Pump which provides an efficient, low-carbon source of heat for the building, neatly incorporated into the roofscape behind timber cladding as part of the chimney enclosure.
A new wet underfloor heating system in the main lounge area adds improved thermal insulation under the original, restored travertine floors. This incorporates floor surface temperature control to protect the original solid hardwood timber floor, and room temperature control to avoid overheating and energy waste. The careful re-use of the building and original materials ensures the embodied carbon impact is low, with all new materials being selected with the carbon impact one of the key factors. The project, with the omission of gas and a heat pump installed, is net-zero ready and will decarbonise alongside the electrical grid. Before the restorations, the predicted annual CO2 emissions was 86 kgCO2/m2, a number now calculated to be 65.79 kgCO2/m2.
Structural and environmental upgrades at High Sunderland had to be balanced with maintaining the legacies of both Wormesley and the Kleins; how much of the house should be restored, and how much of the patina of Bernat and Margaret Klein, the real life of the home, should be preserved too? In repairing damaged cabinetry, Loader Monteith found brush strokes where Bernat cleaned his paint brushes, scratched and burnished into the timber over decades of painting with the same view to nature. Loader Monteith and their clients chose to preserve these delicate details, highlighting their commitment not only to the architecture of Peter Womersley, but the personality and use of this over time, and the role it has played in the Kleins' own creative legacy.
In deftly adding as many environmentally-friendly focused solutions as possible to the skeleton of High Sunderland, Loader Monteith has set a high standard for the impending future of modernist restoration work across the world.
Location Galashiels
Contractor Laurence McIntosh
Structural Engineer David Narro Associates
M&E Engineer Harley Haddow
Historic finishes Crick-Smith