​Backwater
by Platform 5 Architects
Client Claire Michell
Awards RIBA East Award 2017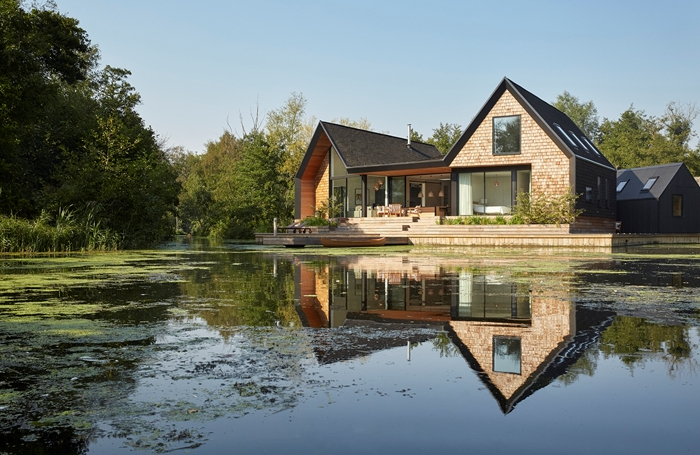 The house is found down a long winding track that penetrates deep into the Norfolk Broads at Wroxham. In the tradition of many houses on the edge of the Broads waterways it is low scale and bungalow-like with terraces overlooking the water. This house does it with aplomb.
From the entrance front it appears as three gabled bays harking to the roof forms of adjacent boat sheds. It is quite modest in appearance whereas the waterside elevations open up to the sun and views in a spectacular way. The three bays reflect the internal organisation of the house: living space with study tucked behind, kitchen and dining area occupying the central bay and in the final bay, bedroom accommodation. Each bay is angled and exploits the numerous vistas that surround the site in an effortless but enchanting ensemble, with windows that are well placed and proportioned to their outlook. The relaxed and calm way that all the spaces of the building relate to each is the secret to the house's success. It can be opened up as free flowing space or closed down as individual rooms to suit the particular demands of day, family or visitors.
Externally the forms of the roof result from the trapezoid plan shape and are well handled, with only two of the gables appearing on the waterside. This gives the house a very different feeling front and back with deep roof overhangs over terraces. Cedar shingles are used throughout but with a subtle distinction between the walls, that are untreated and will weather, to those on the roof which are stained black that also helps to further emphasise the recessive elements of the house.
There is interesting complexity in the shape, form and layout but it feels effortless in its realisation. This house is a delight.


Contractor Wroxham Builders Ltd
Structural Engineer Morph Structures
Services Engineer P3r Engineers
Quantity Surveyor / Cost Consultant Richard Utting Associates
Party Wall Surveyor David Bullen Ltd
Planting Designer Thomas Hoblyn Landscape and Garden Design