​Carrowbreck Meadow
by Hamson Barron Smith
Client Broadland Growth Ltd
Awards RIBA East Award 2017 and RIBA National Award 2017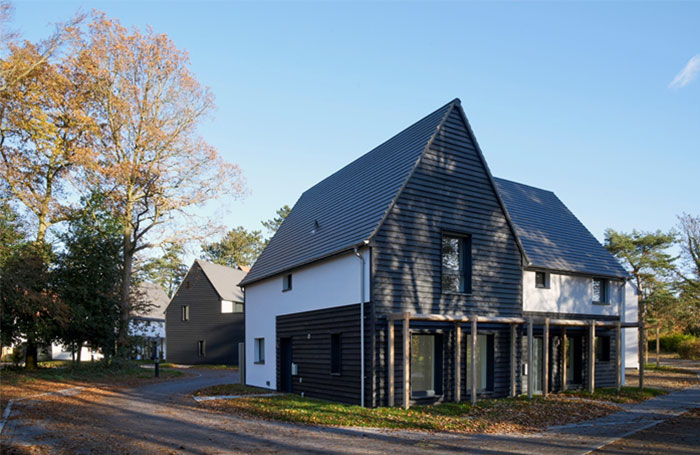 This project for fourteen Passivhaus homes is applauded for setting a new benchmark for local authority housing in the region. It combines a mixed but blind tenure scheme, with 43% affordable housing and Passivhaus certification together with a layout and design that is above the usual expectation. It has also considered biodiversity carefully and provides woodland paths and an animal haven.
Houses either face onto the road or are in groups of three, with two storeyed pitched roof buildings flanking one of three storeys, providing a good sense of place. Forms are simple but are given variety with single storey projections providing first floor terraces to bedrooms. A simple palette of materials of render and timber boarding is used but applied in different formats thereby giving a variety of external treatment. Timber pergolas provide shading on the southern elevations and further enhance this aesthetic. It is an approach that creates a clear identity for the scheme without fussiness.
Internally houses have good natural light and attention has been given to views out with low cilled windows in living rooms. Resident feedback has been very positive regarding both the use of the homes and significantly reduced energy bills. Energy use is being monitored and it appears all expectations are being met. Considerable attention was given to construction techniques and a clay block system was adopted which gives the houses added thermal and acoustic efficiencies with a design life of one hundred and fifty years plus.

This is an ambitious scheme for local authority sponsored housing and is an exemplar for more local authorities and developers to follow.

Contractor R G Carter Construction Ltd
Structural Engineers Hamson Barron Smith
Environmental / M&E Engineers NPS
Quantity Surveyor / Cost Consultant NPS
Project Management NPS
Landscape Architects Hamson Barron Smith Landscape
Planning NPS
CDMC NPS