​​Cowan Court
by 6a architects
Client Churchill College
Awards RIBA East Award 2017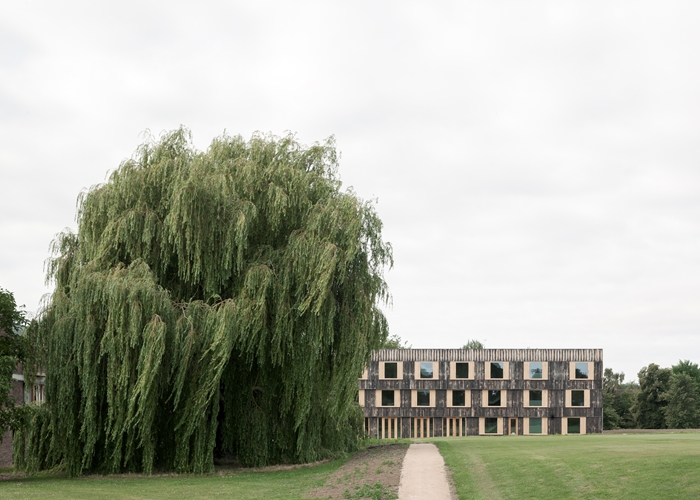 This new hall of residence captures much of the ethos behind the original design for Churchill College but gives us a bold and extremely well thought through contemporary interpretation of it.
The proposition is simple: a courtyard of similar proportions and scale to the existing residential courtyards yet giving it a distinctive twist. All rooms are placed on the outside of the building thereby making the most of external views and avoiding overlooking internally which has been problematic in the original courtyards. This allows for a similar internal cloister walk at ground floor but, in this case, internal circulation at other levels that overlook a grove of silver birches. One day these will be seen sprouting above the roofline. The rooms work well, with generous windows and shared kitchens. However what makes the interiors distinctive is the exploitation of the timber construction which is a further reference to the expressive concrete structure of the original buildings. Hefty ceiling timbers are exposed revealing the structure and giving character to the rooms. Otherwise the interiors are kept quiet.
Not so with the exterior which has the most extraordinary treatment and is the most distinctive aspect of the building. Though seemingly square in plan each elevation is curved. Not only that, each level has a slightly different arc so that each elevation is animated by curved shadows of differing depths giving it intrigue. This is further enhanced by the vertical oak boarding, reclaimed from French railway carriages, with vestigial markings from their previous use giving a rich texture that contrasts with the refined oak windows. The pattern references the timber shuttered cast concrete of the existing buildings which also appears on the concrete plinth of the building. An entablature, again referencing the existing buildings, is carved into the timber in the shape of arcs harking back to the curves in plan.
This building is an important addition to the built form of Churchill College and continues, in its own special and sensitive way, the legacy left by Sheppard Robson.