​Heong Gallery, Downing College
by Caruso St John Architects
Client Downing College
Awards RIBA East Award 2017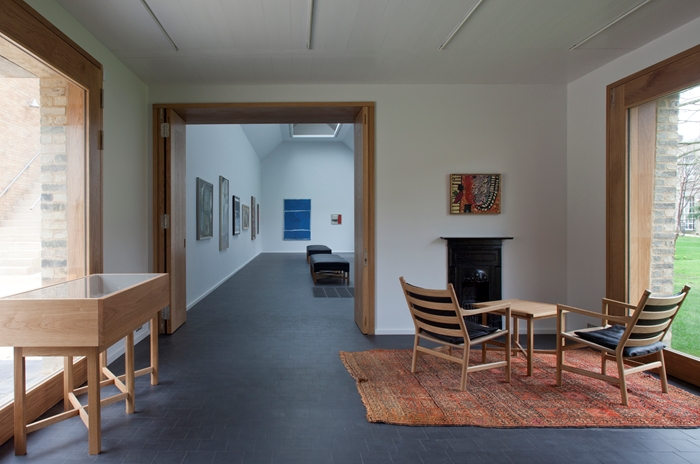 An unloved area of Downing College consisting of unremarkable buildings has been transformed into an understated but elegant gallery with a well-detailed forecourt.
The layout of the building is straightforward consisting of two main spaces, foyer and gallery, housed within a former maintenance building that had originally been stables. The gallery has one central roof light orientated to the northeast but treated symmetrically. One generous window frames the views onto the adjacent garden otherwise the space is left for hanging pictures. A subtle distinction has been made between the timber panelled finish to the interior of the roof light and the gallery ceiling soffit and walls that are seen as a plastered insertion into the existing building. Timber panelling is also used in the foyer ceiling and breaks up what would have been a monotonous plastered surface. A floor of black encaustic tiles unites the rooms. The interior has the same domestic feel as Jim Ede's Kettle's Yard which the architect alludes to. This is reinforced by well-placed fireplace, reclaimed from the original building, which is an invitation to sit down and take a view out of the adjacent window offering another view onto the garden. This simple domesticity nicely contrasts with some of the more magisterial buildings in the gallery's proximity.
The approach of simplicity and elegance has been taken through to the external treatment and detailing of benches and cast aluminium rain canopy. The courtyard adds a sense of repose and generosity, giving the college an adaptable but welcoming space. Together with the building this makes a small but important enhancement to Downing College.
Contractor Buildings Department, Downing College
Structural Engineers Philip Harvey Associates Ltd
Environmental / M&E Engineers WSP
Quantity Surveyor / Cost Consultant Robert Lombardelli Partnership Ltd
Project Management Robert Lombardelli Partnership Ltd
Landscape Architects Studio Karst GmbH
Planning Consultant Beacon Planning
Daylight Consultant ARUP