​Holkham Hall Stables and Pottery Building
by Hopkins Architects
Client Holkham Estate Office
Awards RIBA East Award 2017, RIBA East Conservation Award 2017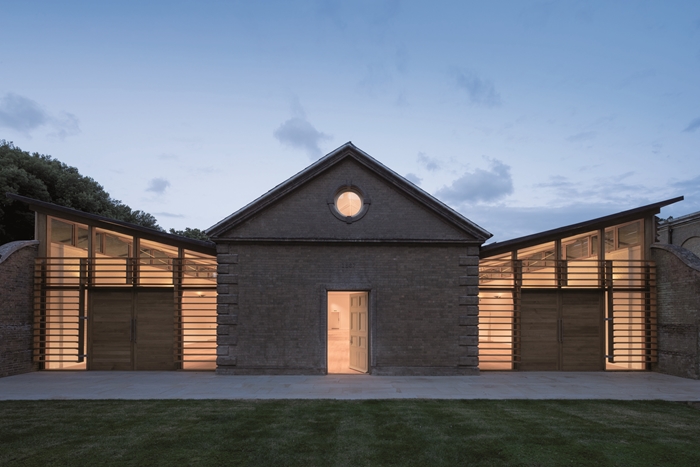 Two separate buildings at Holkham Hall form part of this submission. The stables building has been rearranged and improved to provide an exhibition space, new shop and expanded cafeteria and is well handled. However, the most significant interventions have been made on the pottery building where various disjointed spaces have cleverly been brought together to form one large light filled venue space for weddings, banquets and conferences.
What was originally a bowling alley and then became the pottery consisted of a long rectangular building. This was separated from outbuildings by courtyards on both sides. The new building now encompasses the two courtyards and brings the outbuildings into use as service areas (kitchens and store rooms). The boldest move has been to remove most of the flank walls to the bowling alley and replace with a new open colonnade connecting the central space to the adjacent courtyards so creating a large open area. The design was accomplished using precast concrete columns and beams with a new string bow roof structure over the courtyards. This is sympathetic to the original steel trusses of the bowling alley. Light is brought in at a new clerestory above the outer courtyard wall giving an even wash over the new space.
Overall the detail is of a high standard and the conversion is a clever and bold reuse of the existing buildings, giving Holkham Hall another venue of which it can be truly proud.
Contractor RobSon Construction Ltd
Environmental / M&E Engineers KJ Tait
Catering Keith Winton Design
Quantity Surveyor / Cost Consultant MAC Cost Consulting
Museum Consultant Drinkall Dean
Heritage Consultant Great Yarmouth Preservation Trust
Structural / Civil Engineers Smith and Wallwork