​Modern Detached
by Coffey Architects
Client Private
Awards RIBA East Award 2017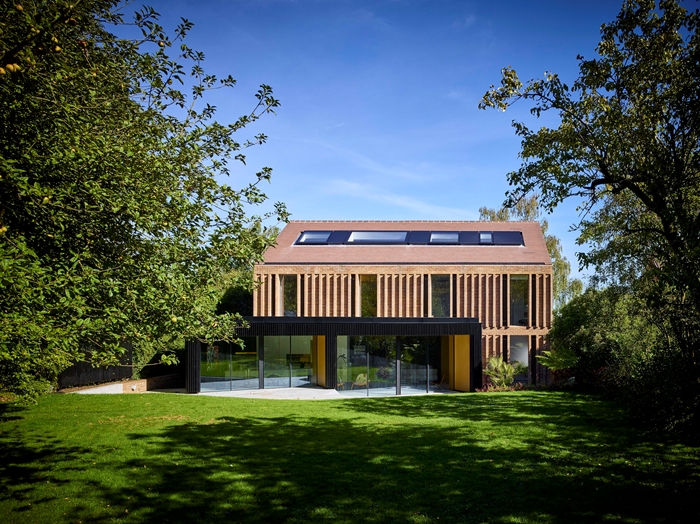 This house shows that good modern architecture can sit comfortably and modestly in a suburban street through a contemporary reinterpretation of neighbouring forms and details. Internally, and in contrast, the house displays flamboyance in its open living spaces and stair hall.
Externally the brickwork harks back to the Arts and Crafts tradition prevalent in the area, with blind arcade brick detailing and windows symmetrically placed. As a counterpoint, in form and material, black charred timber clads the outside of the staircase, conceals the necessary garage and, returning along the flank wall, wraps around the single storey rear extension that engages with the garden. This is cleverly handled and pulls together what might have been discordant parts of the building.
On entering the house the stair hall reveals the full height of the building in a dramatic but controlled way through use of black stained oak panelling that gives way to exposed brickwork: all reflecting themes on the exterior. The hall leads to the open plan living area – the most idiosyncratic space of the house. It is orientated at an angle to the garden to make most of solar orientation and has a scalloped cast concrete bench to the dining table adjacent the kitchen with a sitting area beyond focussed on a fireplace. There is a rich play both of volumes and materials with a vertical visual connection to the main staircase emphasising that this is a shared family space. The material palette is concrete, oak panelling, bronze metal panels and brickwork at the higher levels. This could have been excessive but it works. In contrast the remaining accommodation consists of straightforward rectangular plastered rooms.
Overall the project has been well considered and hopefully will inspire others, locally and further afield, to explore different ways of approaching the suburban house.
Contractor Conamar Building Services Ltd
Structural Engineers Morph Structures
Quantity Surveyor / Cost Consultant Stockdale