​Redshank
by Lisa Shell Architects with Marcus Taylor
Client Make Some Space Ltd
Awards RIBA East Award 2017, RIBA East Small Project Award 2017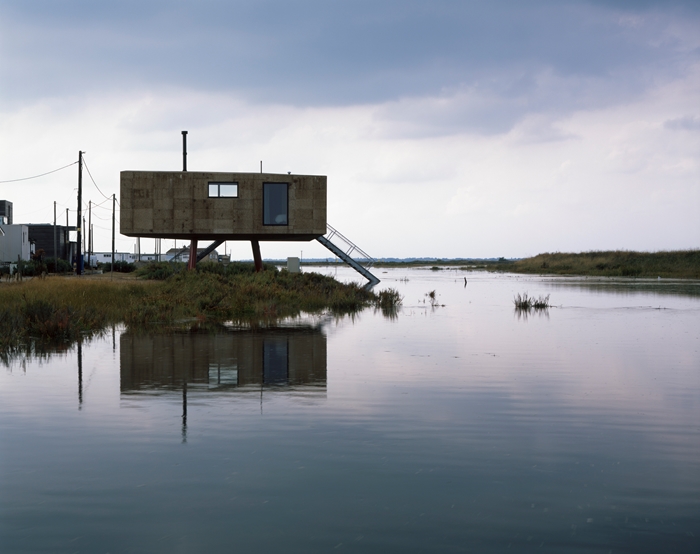 The building is an extraordinary structure, like other extraordinary structures on this part of the Essex coast, which hovers over the reclaimed marshland. It is a small, beautifully detailed and conceived house that has dealt with the considerable challenges presented by the site in a seemingly effortless way.
On approaching the house it is like being in contact with a Maunsell Fort. The steel tripod structure holds the house pod in the air whilst cleverly concealing all the service connections of power, water and sewage. This allows nature to reclaim the ground below back to marsh. A galvanised steel staircase abuts the structure giving access to the house as though one or other has temporarily docked.
The house enclosure is formed in CLT. This is well crafted and detailed and left exposed on the interior. Being externally insulated in cork might at first be a surprise but it is all part of the innovation and integrated design that has gone into the project. The cork clads walls, roof and underside, reinforcing in a slightly different way the idea of a floating object. An external balcony with built-in seating is in oak and this visually invades the cork cladding thereby making the composition work as a whole. Nesting and bat boxes have also been cleverly incorporated.
Internally there are only three rooms, living, bedroom and bathroom, but each is immaculately detailed making the most of the CLT structure. Each window is proportioned according to the importance of the view and function: from the large sea facing window Maunsell forts and wind turbines can be seen, the kitchen window frames views of the approach and doors onto access deck overlook the marsh and estuary. A secret CLT sliding door opens onto the west-facing balcony for passing through of food and drink.
All the elements of the building are integrated into a whole that is a great deal more than sum of those parts. It is a pleasure and a surprise to see this exceptional house in this marshland landscape.


Contractor Macmillan and Wright Ltd/ MWL Group Ltd
Structural Engineers Elliot Wood
Planning Consultants Phillips Planning Services Ltd
Environmental / M&E Engineers Carbon Plan Ltd