​​The Enterprise Centre, University of East Anglia
by Architype
Client Adapt Low Carbon Group and The University of East Anglia
Awards RIBA East Award 2017, RIBA East Sustainability Award 2017 - sponsored by Geberit, RIBA East Client of the Year 2017 - sponsored by Tobermore and RIBA National Award 2017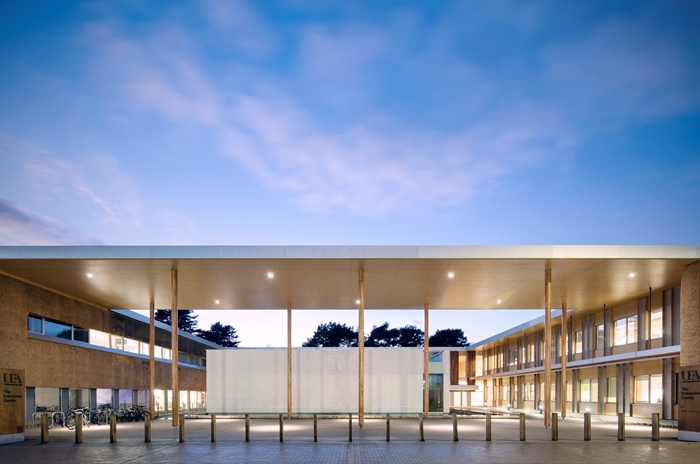 This is an ambitious project that set out to be the first Passivhaus office building in the UK, to source low-carbon materials locally and explore the idea of a contemporary vernacular. A lot has been learnt on the way and the learning process has been as important as the end result. It has achieved much of that ambition and is exemplary. The close collaboration and mutual respect of client and architect has been fundamental to achieve such a praiseworthy result.
Considering the range of materials that the project used both experimentally and conventionally one could have expected a mish-mash of conflicting aesthetics and a confused vision. This is just not the case, due to a rigorous plan and elevational treatment that allows each material to take its appropriate place both functionally and aesthetically, internally and externally. The research and experimentation is considerable from testing the strength of locally grown timber to developing cassette systems for straw thatch that could be fabricated in the winter months when thatching is normally not possible.
The layout of the building is clear to visitors, academia and start-up companies who rent space. Internally the building exudes a sense of calmness and freshness due to the toxin free materials used but also in the way spaces are handled. One great vista is at first floor level where there is a view passing through differently occupied spaces giving a sense of activity and connectivity of people within the building. Each space is treated differently with a variety of materials (hemp, reed-board, clay and nettle fabric coverings) that highlights this progression. Externally the straw cladding is dominant but there are minor 'chords' in the use of reclaimed laboratory worktops with the higher roofs conventionally thatched.
The building is a tour de force in the exploration and use of sustainable materials but it is also a remarkable place to work and to enjoy.


Contractor Morgan Sindall
Environmental / M&E Engineers BDP
Quantity Surveyor / Cost Consultant Capita
Landscape Architects Churchman Landscape Architects
Project Management 3PM
Civil and Structural Engineers BDP