​Aura, Great Kneighton
by TateHindle
Client Countryside Properties
Awards RIBA East Award 2018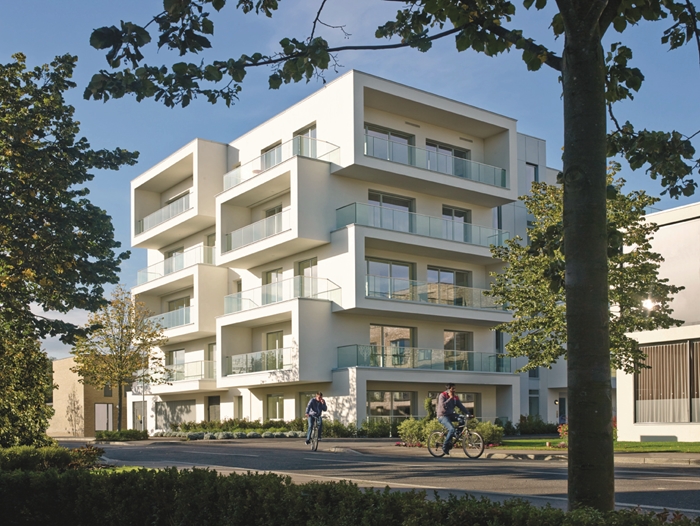 Aura is an example of how good new housing communities can be if a local authority put all their effort behind them and refuse to accept the disappointing norm. It is developed on land owned by Cambridge City Council who have been working for more than a decade to establish a masterplan, obtain planning permission, select a development partner and remain closely involved with the realisation of their vision.
Aura is the development of 650 homes between Long Road, the existing housing to the west, the Country Park with the railway line to the east and the provision of a new secondary school and housing to the south. The site is highly sustainable, being linked by the Guided Busway to the station and the city centre. The new footbridge crosses the railway line to Addenbrookes Hospital and the BioMedical Campus, a major local employer.

The housing is simpler than Accordia, whose lead this development follows, but the project team explain how this development model is more viable, and more widely applicable. Taller buildings contain flats facing the main road, Lime Avenue, stepping down to two storey courtyard houses around parking courts, and single villas facing on to the Country Park. Everywhere there is interesting planting in front gardens, small pocket parks and links out to the local open country park. The landscape architects (BBUK) even retained the historic hedgerows running down the side of the main road, so areas of the historic field layout are preserved. Cars and car parking still dominate some of the hard landscaped areas but Countryside (the developers) are confident this will calm down as people get used to being so connected to the city centre.

Inside the flats the floor to ceilings are higher and the balconies run round two sides of most homes so there is a sense of generosity and pride in the development shared by the tenants and new owners alike.

Aura and the wider Great Kneighton masterplan is a really good example of what a local authority, and its leadership can achieve if they refuse to compromise and are determined to build really sustainable new communities; with new schools and playgrounds, shopping and a medical practice with easy transport connections to work.
Contractor Countryside Properties
Structural Engineer AECOM
Environmental / M&E Engineer AES
Quantity Surveyor / Cost Consultant Countryside Properties
Project Management Countryside Properties
Acoustic Engineer AES
Landscape Architect BBUK
Services Waterman
Internal Area 35,024 m²