​​New Library - University of Bedfordshire
by MCW Architects
Client University of Bedfordshire
Awards RIBA East Award 2018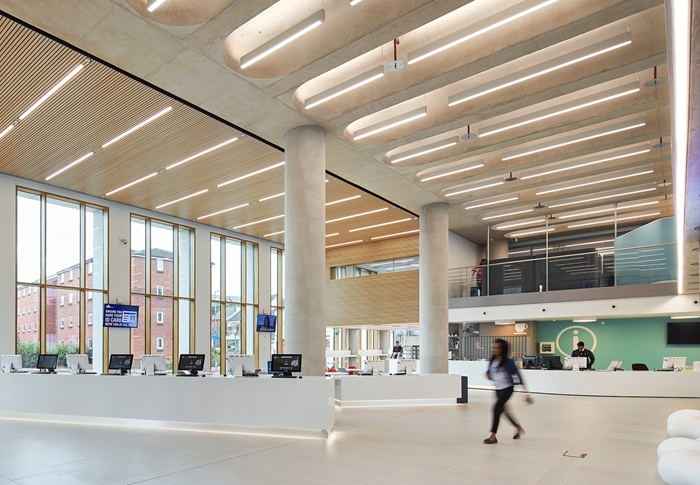 The new library is a highly visible first step in the regeneration of Luton town centre. The University is a major investor in the area and its buildings are of an entirely different scale and quality than the surroundings. The building offers a transparent, open ground floor that encourages the public into the café, waiting and information desk. The line of security (for the library) has been pushed back to the bottom of the stairs to deliberately encourage visitors. This is a particularly generous gesture by the University given that this is a rundown part of the town centre (opposite the Salvation Army), so that the seats outside of the building are a busy destination.
The building is certainly achieving the University's aim to develop the estate in Luton and to invest in high quality facilities for under achieving students. It is filled with books and a noisy, busy library stack, where silent working is set aside in purpose designed areas, among a dazzling array of different layouts of screens, tables, sofas, screens and seating.

Every effort is made to link the spaces in what is a tall (nine storey) building for a library. Slim lightwells give views down onto study activity below and the stairs have hold open fire doors to make it easy to nip up or down a floor to find the right working environment.

The skin of the building is in well ordered precast concrete with the local landmark of a double height glazed meeting room making the entrance on the roofscape a visible marker over the lowkey roofscape of Luton town centre.

The project has an efficient servicing strategy with a variable volume ventilation system that utilises the exposed thermal mass of the building to maximise the cooling potential of night time air. Heating is derived from a campus combined heat and power generator and initial figures show 4.4% of the electrical demand is being met by a photovoltaic array. Pressure on mains services is further reduced by collecting rainwater on-site for toilet flushing. The design target of BREEAM 'Excellent' has helped shape the building form and fabric; reflected in the excellent quality of daylight.
Contractor Willmott Dixon Construction
Structural Engineer AECOM
Environmental / M&E Engineer AECOM
Quantity Surveyor / Cost Consultant AECOM
Project Management AECOM
Acoustic Engineer AECOM
Internal Area 6,939 m²