​The Deerings
by Gresford Architects & Nicolas Tye Architects
Client Private
Awards RIBA East Award 2018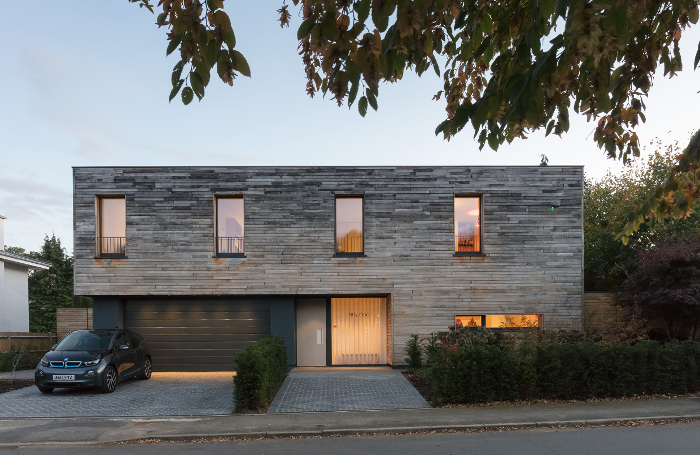 The client for this passivhaus was just as influential in the design and specification as the architects. In the case of the very high sustainable credentials of this house, he initiated the strategies, researched them exhaustively and monitors them on a day to day basis.
The modern look and layout of the house were designed with Nicolas Tye Architects. Obtaining consent was a challenge itself, being a modern, simple form surrounded by very traditional, suburban designs. It offers a flat front face to a limited front garden, which mainly screens the architecture in contrast to the pitched roofs, attached garages and extensive drives of the neighbours.

Internally the layout is generous, with extra rooms for hanging coats and washing hands, a study/office, a screening room, pantry and wider circulating spaces that suggest extra activities. The clients here were keen to have a central double height space in the living room that brings all the domestic spaces together.

For the construction and detailing a second architect was engaged, with passivhaus experience, to see through the very detailed construction process needed to achieve the levels of air tightness this type of building requires (there is even a specialist, air sealed cat flap marketed by passivhaus). The owner's fixation with sustainability does have a human side where the excess hot water generated by the wood burning stove and solar water heating panels are used to fill a Japanese timber bath outside on the roof terrace.

The owner actively monitors the internal temperature of the house under different external conditions and could report that the temperature of the house barely changed when the family were away for two weeks, this means bills are almost non-existent. The sunshine on even a winters day is usually enough to warm the house.

There has been considerable investment in the fabric and technology of the house and the owner is keen to see how long it will take for his considerable fuel bill savings to pay back his investment. But at the same time this is a unique warm, fresh feeling (a heat exchanger provides background ventilation), open plan family house.
Contractor MBC Timberframe Ltd
Surveyor Cubic Building Surveying Ltd
Structural Engineer Tanner Structural Design Ltd
Project Management Trunk Low Energy Building Ltd
Ventilation Design Green Building Store
Wood Flooring Supplier Sutton Timber Ltd
Environmental/M&E Engineer Crofton Design Ltd
Electrician Nightingale Electrical
Fit-out Contractor Husker Ltd
Internal Area 400 m²