Peter Hall Performing Arts Centre
by Haworth Tompkins
Client The Perse School
Awards RIBA East Award 2019 and RIBA National Award 2019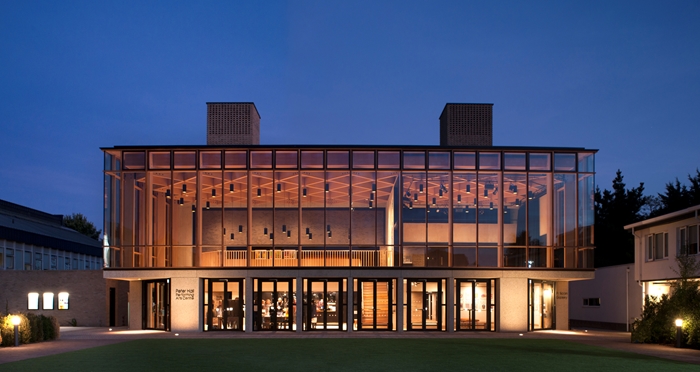 Given the opportunity to masterplan this portion of the Perse School site before designing the building, the architects were able to rearrange sports facilities, such as hard surface games courts, and then plan the position of the new buildings so that it created a courtyard that has quickly become the heart of the school. Sophisticated hard landscaping has helped it to become a social space where teenagers want to congregate and socialise when they take their breaks, or move between subject blocks. Forming the main face of the new courtyard is the magnificent, welcoming front elevation of the new theatre.
Foyer spaces are enclosed and convivial, while at the same time being open and democratic. Pupils choose to go there to complete homework in free periods, but they are really spaces for crowds to congregate. A portion of the upper level foyer can itself be used for smaller performances.
The roof structure of the foyers is a grid of glulam beams, forming a coffer effect that is rich and warm. Slatted oak balustrades to the stairs and landings, fair faced concrete, and carefully selected brick walls, extending into a brick herring bone ground floor, continues the humane glow of natural materials. Perhaps this is why pupils like to find a corner of the foyer in which to do their homework
A very versatile auditorium, with courtyard style balconies that work well in a variety of different audience configurations and a well-conceived technical level above provide a playing space that is both sophisticated and technically adaptable. The space works for the range of shows demanded, and is appropriate for a school with the diverse needs associated with teaching drama. The practice's experience in designing theatre spaces is fully displayed here.
This carries through to the backstage, which is logically and efficiently planned and structured around a 'get in' layout that would work well in a town theatre. Workshop spaces are appropriately utilitarian, and are happily tolerant of the natural erosion and paint spatter that comes from the robust treatment associated with putting on a show.
This is a building that is beautifully conceived and masterfully executed.
Contractor RG Carter
Structural Engineer Price & Myers
Environmental / M&E Engineer Skelly & Couch
Quantity Surveyor / Cost Consultant AECOM
Acoustic Engineer Charcoalblue
Collaborating Artist Victoria Morton
Theatre Consultant Charcoalblue
Plantsman The Plant Specialist
Project Management AECOM
Internal area 2,340 m²