Simon Sainsbury Centre, Cambridge Judge Business School
by Stanton Williams
Client University of Cambridge
Awards RIBA East Award 2019 and RIBA National Award 2019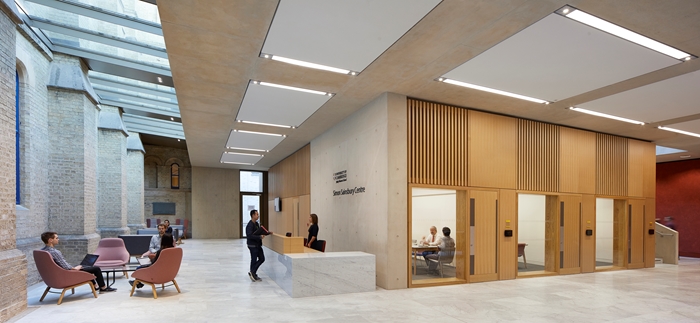 The Cambridge Judge Business School achieved fame in the 1990s when John Outram converted the original Addenbrookes hospital building in characteristic exuberant style. This extension occupies space behind the original building, on a very constricted site, pressed hard up against Tennis Court Road at the rear. A large amount of accommodation was required, necessitating very efficient use of space and very careful planning. It is a mark of success that the interiors feel spacious and flowing.
Stanton Williams solution has been realised in fair faced concrete (exquisitely executed), with panels of oak boarding, giving a very orderly, cool modern feel reminiscent of Khan's Centre for British Art at Yale. An aesthetic in full contrast to Outram's, links between the new extension and the existing social hub have been very skilfully handled, enabling one to pass from the rich, colourful and slightly mad world of the hub to one of calm, thoughtfulness and contemplation with simple ease. The change of mood is immediate and very affecting.
Achieving the simplicity and quiet elegance found in the Simon Sainsbury Centre takes a huge amount of effort. Every detail here has been considered and all elements brought together in intersections that are perfect in execution.
A number of very successful spaces have been achieved. Of particular note are the teaching rooms, which contain large windows, unlike the received wisdom for these spaces, and, although the windows face directly onto Tennis Court Road the geometry of their setting has been so carefully worked out that passers-by cannot see the activities within.
Similarly the dining spaces, perhaps part of the oldest tradition associated with college life, are clean and modern, using graphics and plywood furniture that resonates with high modern Nordic design. The café has now become very popular on the University campus, attracting students from well beyond the business school. Also of note is the work environment, on floors above the dining and teaching spaces, where the aesthetic is a little more utilitarian, but the confident modern feel is the same.
Particularly impressive is the elevation onto Tennis Court Road. Unable to see this face on, the architects recognised that it would always be seen in foreshortened view, and have designed the proportions and elements accordingly. The treatment of the ground floor, where there is a brick wall made to mask the views into the teaching spaces, has been handled in a way that mirrors the old garden wall on the other side of the lane, helping this very modern building to sit comfortably in its historic context.
Contractor SDC Builders
Strategic Project Manager Stuart A Johnson Consulting
Structural Engineer AKT II
Environmental / M&E Engineer Arup
Quantity Surveyor / Cost Consultant Gardiner & Theobald
Project Management Currie & Brown
Landscape Architect BHSLA
Acoustic Engineer AAD
Internal area 5,506 m²