The Lookout Holkham
by Feilden Clegg Bradley Studios with Lucas+Western Architects
Client Holkham Estate
Awards RIBA East Award 2019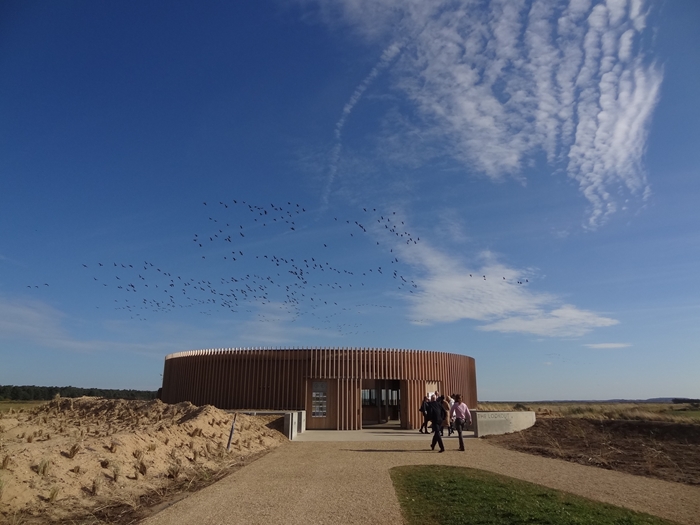 It has become more common in the profession over recent years for two or more architects to be involved in a project; different studios taking on different RIBA Workstages. At the Lookout, an understated, simple visitor centre, Feilden Clegg Bradley Studios took the design to RIBA Stage 3, and it was then picked up by the Norfolk practice Lucas+Western Architects for technical design and delivery.
Holkham has a large number of visitors, many of whom are walkers passing through to the expansive sandy beach and coastal dunes beyond. This building was to provide them with the simplest of facilities – toilets, a small café and shop, and an orientation exhibition explaining the adjacent wetland area and a good lookout for ornithologists.
The concept and developed design by Feilden Clegg Bradley was very strong. Some of the wetland was excavated to give a greater variety of habitat, and the spoil was mounded up so that the new visitor centre could be above the flood level, and be elevated enough to give good views across the bird reserve. A simple, circular plan, the exterior was glazed and faced with vertical timber slats, which provide sufficient visual masking to allow people to move around within the centre without distracting and worrying the birds.
Substructure design was key to the success of the building with drainage (foul and surface water) tucked away, and with a concrete base ring to complete the flood defences. The entrance opening in the ring has a flood gate that can be closed when the water level is at its height.
Detailing of the galvanised steel superstructure, timber joists and the cladding, coupled with the well thought through integration of rainwater goods, was impressive. Indeed there was skilled detailing throughout, which has resulted in a building that has retained the simplicity of the original concept. It would have been easy for the building to be spoilt by one or another practical issue, if it had not been so thoroughly thought through in every detail.
Hovering above the landscape, the timber hues of the building match the natural soil colours. Planting the mount with marram grass, in keeping with the surrounded reeds and grasses, will enliven the setting with breezy movement around the base when the planting has matured. This is a very successful addition to the Holkham experience.
Contractor Robson Construction
Structural Engineer Integral Engineering Design / Plandescil
Environmental / M&E Engineer E3 Consulting Engineers /
JTC Design Services / Kevin Boast Associates
Quantity Surveyor / Cost Consultant MAC Cost Consulting
Landscape Architect Catherine Bickmore Associates
Geotechnical Engineer & Flood Risk Assessor Plandescil
Internal area 154 m²