Imperial War Museums Paper Store
by Architype
Client Imperial War Museums
Awards RIBA East Award 2021, RIBA East Sustainability Award 2021 (sponsored by Michelmersh) and RIBA National Award 2021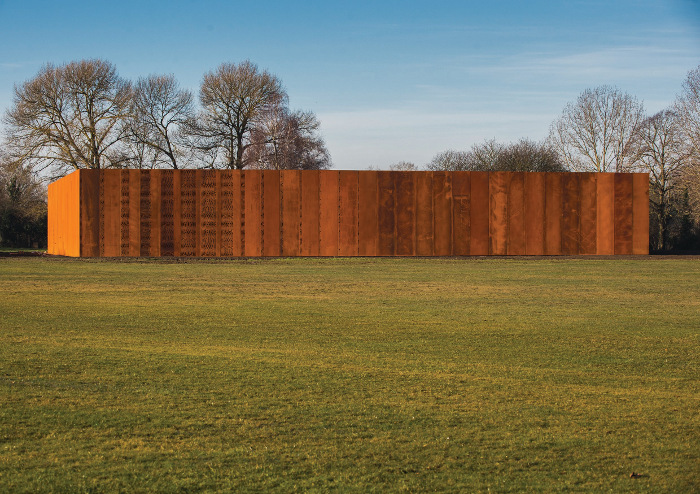 The new archive building at the Imperial War Museum, Duxford, is a weathered steel-clad facility nestled among a collection of important facilities that make up the Duxford Airfield conservation area. It sits peacefully and respectfully at the rear of the site, without detracting from the surrounding buildings, and creates a place for contemplation for those who have donated archival material.
The plan is simple, but flexible, allowing for future expansion without compromising on the layout of the existing. Its minimal form, which creates a sculptural object in itself, is also in line with its sustainability credentials; ensuring that heat losses are minimised from additional corners and junctions.
The cladding panels represent each year since 1914 and are punched to represent the volume of storage within a particular year, with those of high conflict heavily perforated. Due to the passive design and low requirement for services, minimal penetrations in the facade made this possible.
Creating a building with low embodied carbon materials, while still achieving the additional fire safety requirements for such an important archive, demonstrates the consideration of the design team in going beyond the typical specification of buildings of this type. The client has to be given high praise, for both testing the standard approach for archive design and for trusting the architect to develop the brief and manage the process through to successful completion.
The predicted performance of the building is exemplary, with its final primary energy much lower than standard specification archive buildings, as well as lower than the RIBA 2030 Climate Challenge figures for operational energy, and embodied carbon. The airtightness value is most likely the lowest measured value for a building which, with the super insulation and passive design, creates stable internal temperatures and relative humidity without expensive mechanical systems.
By challenging the brief, the architects and client have achieved an archival facility that creates both an emotional response and represents a blueprint for sustainable performance that could demonstrate significant savings in carbon in future designs.
Contractor Fabrite Engineering
Structural Engineer Momentum Structural Engineers
Environmental / M&E Engineer E3 Consulting Engineers and Elemental Solutions
Project Management Fraser Randall

Quantity Surveyor / Cost Consultant Avison Young
Internal area 1456 m²