Key Worker Housing, Eddington, Cambridge
by Stanton Williams
Client University of Cambridge, North West Cambridge Development
Awards RIBA East Award 2021, RIBA National Award 2021
This project was shortlisted for the 2021 Neave Brown Award for Housing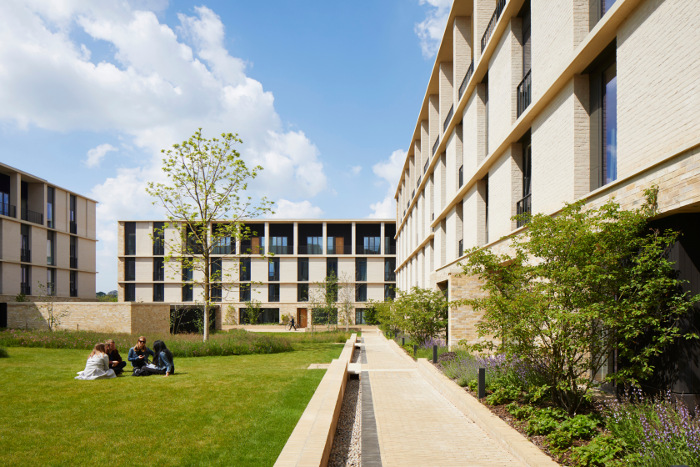 This urban approach of 'loose' interconnected courtyards is very successful and creates a delightful series of spaces. The walk from Market Square through four interwoven courts to reach Landscape Court is a pleasure, and easily accessible by all. The landscaping, both hard and soft, is particularly successful in integrating the buildings within a holistic and rigorous external environment.
The scheme manages to feel as though it is part Cambridge college and part new piece of city. As such, there is a slight ambiguity of what is truly public and what is private communal space for the residents, yet publicly accessible. This is deliberately employed in order to foster a communal sense within the development and an encouragement to use the space accordingly. With almost no private amenity space in the form of balconies, most external space is communal, either at roof level or ground level, so a resident wanting to enjoy a sunny afternoon is more than likely to bump into a neighbour.
A calm, well considered palette of materials has been used throughout. The ground floor plinth is formed of mottled buff Cambridge brick, which extends vertically at level changes or to celebrate corner conditions. The upper light brick forms a gridded panel system, with rebates, and which sometimes interlaces with the plinth brick. Precast reconstituted stone is used for copings and cill ledges that run horizontally around at each floor level. Cycle stores and entrances are picked out in vertical black timber, which is then supplemented with oak reveals and entrance doors. Internally the staircases are celebrated with strong colours to emphasise the communal experience.
The enclosed cycle courts wrapped in timber, with planters within, are a delightful treatment of what is often considered to be a banal storage requirement. Here cycling is celebrated and the cycle stores help to articulate the edges of the courtyard and the arrival sequences.
The landscape incorporates water features and manages the water run-off and storage as an integral part of the landscape and journey from the hard surfaces of the Market Square to the heavily planted Landscape Court. The utilisation of CHP, rainwater harvesting and sustainable drainage was integrated into the design at the concept stage and has been successfully delivered. The buildings are designed to meet Code for Sustainable Homes Level 5 and non-residential spaces to BREEAM Excellent, which is to be commended.
Overall, the sequence of buildings and spaces between them is a delightful example of how a rigorous approach to form, materials and details can create a harmonious environment and make a great place. Eddington is emerging as a fascinating example of place creation and urban planning and this Key Worker Housing scheme has helped to establish a high benchmark for forthcoming phases.
Contractor Wates Construction
Planning and Masterplanning AECOM
Landscape Architect J & L Gibbons
Project Management Turner & Townsend
Quantity Surveyor / Cost Consultant Gardiner and Theobald
Fire Engineer IFC
Structural Engineer (Post Design Stages) MLM

Sustainability, Environmental and Acoustic Engineer (Post Design Stages) Stroma (formerly HRS Services)
Access Consultant Centre for Accessible Environments
Clerk of Works calfordseaden

Building Control Cambridge City Council

Code for Sustainable Homes and BREEAM Assessor NHBC

Structural Engineer (Design Stages) AECOM (formerly URS)
M&E Engineer (Design Stages) AECOM (formerly URS)
Building Physics Consultant (Design Stages) AECOM (formerly URS)

Principal Designer Faithful+Gould
M&E Engineer (Post Design Stages) Hoare Lea
Internal area 22,316 m²