Private House, Cambridge
by NRAP Architects
Client Private client
Awards RIBA East Award 2021, RIBA East Small Project of the Year 2021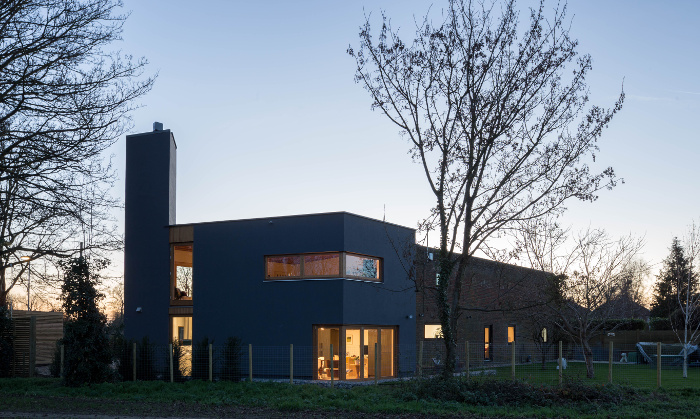 This is a delightful two-storey extension and renewal of an existing elegant and simple L-shaped single-storey courtyard house.
The wedge-shaped extension, which picks up on the geometry of the plot, provides a counterpoint to the orthogonal original house. The flat roof of the extension contrasts with the inward facing pitches of the original building and extends at the ridge height to subtly insert two storeys without dominating the original dwelling. The ground floor of the original house is dedicated to bedrooms, bathrooms and utility accommodation, while the new extension adds a kitchen-cum-dining room on the ground floor and a living room above. Access to a new study at 'loft' level in the original house is given from the upper level of the two-storey entrance hall.
The renewal of the existing house has been achieved through carefully inserting double glazing and improving the thermal performance without demolishing the original building. The addition provides a well-insulated enclosure that reduces heat loss through the original fabric by internalising it. The adaptive reuse of the existing structure is a sensitive, sustainable approach and shows how buildings of previous eras can, with good design, be enhanced and renewed rather than replaced.
The new palette of materials is both a complement and contrast to the original brick courtyard house. The dark grey render, with its ribbon windows, is a contrast to the more rustic brickwork of the original house with punctured apertures. The use of timber windows to match the original house allows the extension to feel as though it is integrated into the original design in a harmonious manner.
The delight in the house is the spaces and their relationship with the surrounding landscape. The original house is largely inward looking, to its internal courtyard. The extension reverses this and provides outward looking living accommodation over two levels. The main living space on the first floor enjoys striking views across the countryside and fully exploits its position on the edge of the village.
The careful attention to the specification and to keeping the design to budget has resulted in a house that delivers a lot for a very competitive price. The use of a 'traditional' contract to achieve this demonstrates that great architecture can be delivered to a tight budget, with a good client and architect team. The close collaboration and a trusting and friendly relationship between client and architect were clearly evident at the jury visit.
The project is an excellent example of where good design adds significant value, and creates a wonderful house with relatively modest means. It is an accomplished piece of architecture and a sensitive renewal of an original building providing it with a long term sustainable future.
Contractor Adams and Newman
Structural Engineer Gawn Associates
Quantity Surveyor / Cost Consultant Sheriff Tiplady
Internal area 235 m²