St Albans Cathedral Welcome and Learning Centre
by Simpson & Brown
Client St Albans Cathedral
Awards RIBA East Award 2021, RIBA East Conservation Award 2021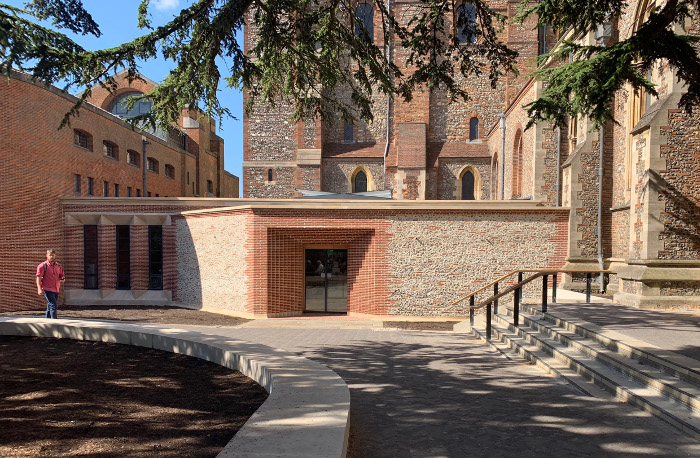 This is a project that delights throughout. From the careful decisions on the formation of a new entrance, to the uncovering of an existing high-level walkway, the result is a new insertion to the Grade I listed cathedral and Chapter House which enhances these heritage assets on many levels.
Some careful conservation repairs to door jambs by inserting fresh Ancaster hard white stone, along with light brick cleaning and repointing, ensures that the historic elements were respected while the new structure created a wonderful entrance and orientation space.
New roof light glazing butts against the main cathedral walls, allowing natural light to wash down the brick and stone in the entrance area and shop, offering glimpses of the towering structure beyond.
Material choices for the new extension include specially made Bovingdon bricks and glulam timber with simple steel supports. These sit perfectly against the existing structures by offering a sense of solidity while at the same time being clearly new and avoiding an attempt to compete with the huge structures either side.
The new connections to the Chapter House are neat and almost invisible despite a good deal of work to existing openings and window and door reveals. The result is a flow through to the café which makes use of a new raised floor to present level access throughout.
The existing concrete walkway between Chapter House and cathedral is re-presented with a glazed roof covering, offering an abundance of natural light into what had been a completely covered, dark and neglected space. This walkway now becomes a feature of a former 'back of house' space and adds a delightful element to what is essentially circulation space. Views out to the rear landscape add to the lightness of the space while offering further orientation and understanding of the overall form of the connected buildings.
An added benefit comes from the development of the Chapter House itself. The extension of library and learning spaces include an enlargement of an existing mezzanine and the insertion of new roof lights, which ensures well lit, open spaces.
The success of the new entrance is to be applauded. Accommodating some difficult changes in level, and having negotiated a good deal of archaeological investigation, the result is an entrance that is both obvious to visitors (where what existed previously was unclear and confusing) while clearly not competing with the cathedral itself.
The project is worthy of both a RIBA East Regional Award as well as the RIBA East Conservation Award for its clever connection between the cathedral and Chapter House, its uncovering and re-presentation of formerly underutilised spaces and the inclusion of some careful conservation repair work. All of this ensures that each heritage asset is conserved, enhanced, and protected for the enjoyment of future generations - all the hallmarks of a successful conservation project.
Contractor Thomas Sinden
Project Management Cragg Management Services
Structural Engineer Momentum

Environmental / M&E Engineer Mott MacDonald
Quantity Surveyor / Cost Consultant Artelia
Acoustic Engineer Hann Tucker Associates

Landscape Architect J & L Gibbons
Fire Engineer Trenton Fire
Internal area 1,426 m²