Student Services Centre
by Bennetts Associates
Client University of Cambridge
Awards RIBA East Award 2021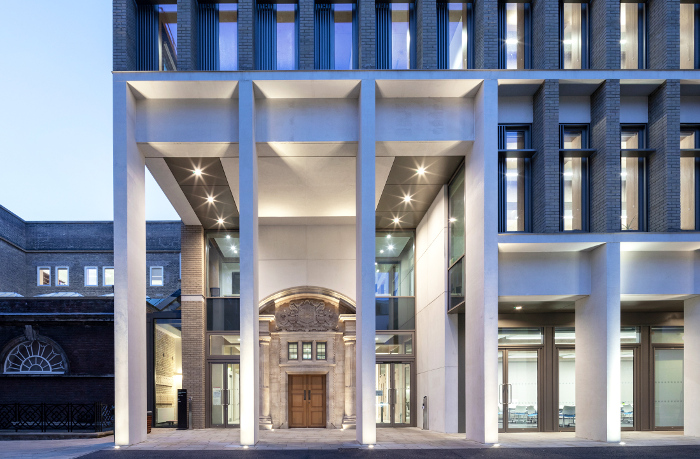 The Student Services Centre consolidates seven university facilities to provide a new centralised location within the city. Incorporating an Edwardian Art School, the Old Cavendish Laboratory and a new building, the site has been optimised while still providing high quality landscape between the three buildings and the centre of the city. The project transforms the local street structure, connecting previously divided areas.
The refurbishment of the lecture theatre seamlessly blends the existing furniture and details, while bringing 21st Century facilities to meet the needs of students today. The reuse of a number of building elements represents good conservation and sustainable design.
The new building, while very structured in terms of its elevation, sits at the rear of the site and is respectful of the existing context. Internally, a four-storey atrium provides natural ventilation and daylight to offices and workspaces within, linked to a circulation space that provides flexible break out spaces and informal seating. The column-free concrete structure gives a flexibility to the spaces and encourages social interaction for building users. Complex stakeholder and building user engagement research has led to a collection of buildings that can provide a number of services.
Energy performance modelling shows that the simple building fabric strategy results in a low energy building, coupled with photovoltaic panels to reduce its overall primary energy consumption. These figures meet the RIBA 2030 Climate Challenge goals and low carbon concrete, along with natural materials such as timber, show the building's embodied carbon has been considered. Utilising the Soft Landings Framework is also a robust method for achieving a low carbon building.
The architects have navigated a complex process of briefing with numerous stakeholders, listed and existing fabric, constrained access and archaeological finds, and arrived with an exemplary addition to the city's urban realm.
Contractor Kier Eastern
Project Management AECOM
Structural Engineer AECOM Structures and Building Engineering
Services Design BDP / Munro Building Services / Venables Associates
Acoustic Engineer Applied Acoustic Design
Lighting Design BDP Lighting

Fire Consultant Fire Ingenuity

Landscape Architect Wynne Williams Associates / LDA Design
Environmental / M&E Engineer AECOM Sustainability
Quantity Surveyor / Cost Consultant Edmund Shipway

Internal area 6,286 m²