​Advanced Manufacturing Building, The University of Nottingham
by Bond Bryan Architects
Client The University of Nottingham
Award RIBA East Midlands Award 2018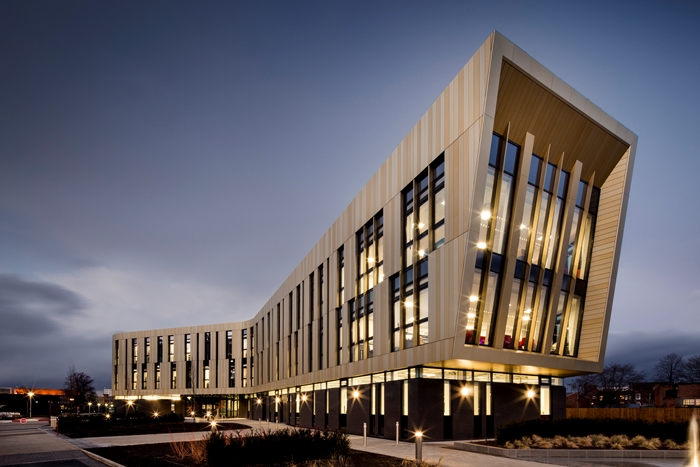 The building is immediately recognisable as a dynamic and powerful statement at the gateway to the Jubilee Campus. However, this assured simplicity belies a complex brief and a series of well-resolved and interesting interior spaces.

The layout is composed of a simple yet large volume containing functional workshop spaces, contrasting against a more fluid accommodation block containing offices, research and meeting spaces.
This more dynamic form emerges from a skilful weaving of space between many site constraints including the River Leen, estate entrance road and harmonious geometrical relationship with the historically significant Lenton Lodge.
The resulting undulating form achieves much, managing to create an embracing entranceway, and a series of uniquely formed meeting spaces at the changes in geometry. The linear plan form affords a high degree of fenestration - perhaps rare in such a building but which admits daylight into the laboratories and offices and allows views back out to the surrounding campus.
Visitors however will find their journey starts at the central atrium which mediates the space between the angular accommodation block and the more rational workshop volume. This calm yet geometrically interesting space is returned to again and again as users circulate around the building and is key to the legibility of the layout.
A well-balanced space, the atrium utilises open walkways and glazed openings to the research and meeting rooms to encourage collaboration and shared working. The bold form of the roof lights, an angular staircase and a controlled colour palette create a space, which will no doubt prove timeless and memorable.

The spatial layout is expressed clearly in the external appearance with the two primary forms clad in contrasting materials and colours. The large volume of the workshop space receives an industrial black cladding and cleverly avoids any overpowering of the composition.
The accommodation block is wrapped in a delicately balanced palette of gold hues creating subtle variations as light falls on the changing directional surfaces.
The cladding is itself a nod to the warm stone of Lenton Lodge and together the historic and contemporary structures create a pleasing gateway to the campus. A large picture window creates an element of drama at the gateway, but again the deft changes in geometry introduce a subtle twist to the composition.

Such a balance of legibility and dynamic interest is often hard to achieve but the project team deserve great credit for their careful handling of context, the resolution of the complex spatial demands and the creation of an innovative working environment.

Contractor GF Tomlinson
Structural Engineer Arup
Environmental/M&E Engineer Arup
Quantity Surveyor/Cost Consultant Currie & Brown
Project Management Turner and Townsend
Acoustic Engineer Aecom
Landscape Architect Ares Landscape Architects
Fire Engineer Arup
Internal area 9,000.00 m²