​NGS Macmillan Unit
by The Manser Practice
Client Chesterfield Royal Hospital
Awards RIBA East Midlands Award 2018, RIBA East Midlands Client of the Year 2018 - sponsored by Tobermore, RIBA East Midlands Project Architect of the Year 2018 - sponsored by Taylor Maxwell for Guy Barlow, RIBA East Midlands Building of the Year 2018 - sponsored by Artifice Press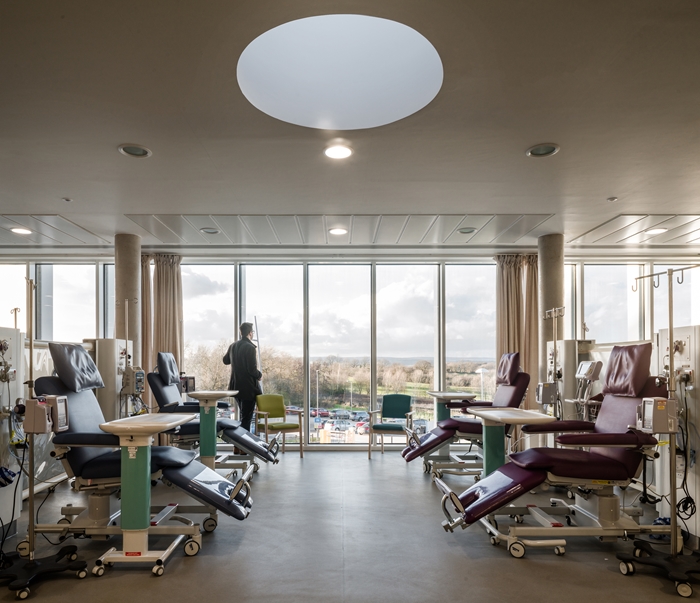 The Chesterfield Royal Hospital Trust set a brief for a "calm, non-clinical environment" and the new building delivers on this promise with rare maturity and delight. The setting for the building is critical to its success, looking out across farmland and a gently rolling horizon.
The support of Macmillan and donations from the National Garden Scheme have clearly been fundamental in setting the level of ambition and informing the design processes in this treasured location.

The building is approached from a new drop off which crucially provides patients with convenient and immediate access, but this space has qualities far exceeding the functional. Conceived as a calm and inspirational garden space, the welcome characterises the highest level of design consideration for the patients, staff and visitors which is consistently applied throughout the project.

On entering the building, it becomes immediately clear that the more informal layout is able to create spaces that are relaxed, generous and constantly refer the observer back to the rich landscape. However, these informal areas are skilfully blended with a well thought through patient journey taking in a series of rooms during the treatment cycle.
The awards jury were particularly impressed by the level of consideration to the patient experience at each moment; subtle changes in geometry transform corridors and reception spaces into informal and relaxed places to be.
Even the smallest of treatment rooms benefit from views out and fretted panels allow for privacy whilst affording natural ventilation and connection with the outdoor climate.
Natural light floods the main treatment area through punched roof lights whilst the gently curving facade resonates with the silhouette of the landscape beyond.

The building enjoys a warmth through the addition of carefully selected art works, furniture and a graphic scheme. Colours are a direct reference to the seasonally changing landscape and again reconnect patients with the landscape and outdoor environment.

Externally the eye is caught by the white Corian cladding which creates a building of great elegance and reinforces the sense of quality. The contrast of the white Corian panels with the carefully selected planting scheme is a truly uplifting place to be, for patients, visitors and staff alike.

The project team have steered this building at every turn through a process of careful reflection to ensure the best possible outcomes for patient experience and wellbeing.

Contractor Vinci Construction UK
Structural Engineer Mott MacDonald
Environmental /M&E Engineer Mott MacDonald
Quantity Surveyor/Cost Consultant Summers Inman
Landscape Architect Smeeden Foreman
Acoustic Engineer Acoustic Design Technology
Art Consultant Art In Site
Internal area 2,142.00 m²