​One Angel Square​
by BDP
Client Northamptonshire County Council
Awards RIBA East Midlands Award 2018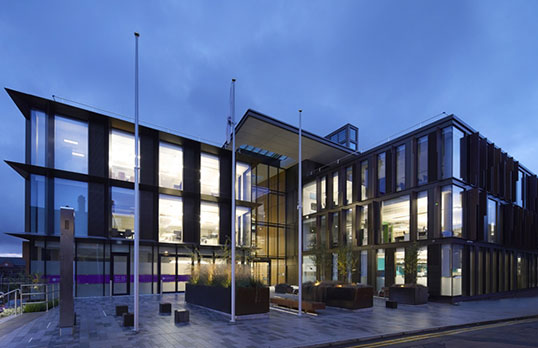 Angel Square responds to an ambitious brief to combine workforces from 12 separate properties in a single BREEAM excellent headquarters building. The project, however, goes beyond a spatial planning exercise and capitalises on bringing together the 2000 strong workforce by creating a building that actively promotes collaborative working. This philosophy is clearly evident throughout all aspects of the design.

Conceived as a "Yin Yang" plan, the layout arranges two wings around a central courtyard. Although originally envisaged as an open space, the courtyard developed through the design process emerging as a covered atrium and focal point of the building. Vistas into and beyond the space add interest and animation to the workplace environment.
With an elegant glazed roof, the courtyard admits high levels of daylight into the deep plan building which, being linked to the building management system, also allows for natural ventilation as necessary. The courtyard successfully functions as an informal space gathering people together, with further breakout spaces peeling back from the atrium into the surrounding floor plates.

A series of smaller atria and roof lights admit further daylight and it is pleasing to observe the different architectural forms of these secondary elements which assist in the legibility of the building. As workspaces move out from the central atrium, working arrangements become more formalised, but teams benefit from natural ventilation and access to daylight along the building perimeter.
Offering flexibility and individual control of the working environment was a key element of the design brief, and technology has been utilised to great effect to achieve this, notably in the lighting and IT systems.

The entire layout is both legible and functional and enhanced by further design cues, such as open staircases visually connecting levels and innovative storage solutions to further encourage movement between teams and departments.

The external envelope displays a pleasing and confident rigour; situated in a conservation area amongst various historical buildings, Angel Square adopts a bold contemporary language. The façade fulfils its technical demands whilst mediating with the surrounding built fabric through the use of a subtle colour palette and deep reveals that create interest and drama.
The north-east corner gives way to a simple and elegant landscaped square signalling the primary entrance, and at the south-west corner the building capitalises on the sloping site by inserting an additional public level, potentially to be used as conferencing or retail space and setting the scene for future regeneration to the south.

One Angel Square demonstrates a highly competent and elegant approach that showcases innovation in the workplace environment.
Contractor Galliford Try
Structural Engineer BDP
Brief writer, technical advisor and FF&E procurement Consarc
Environmental/M&E Engineer BDP
Interior Design BDP
Project Management Lendlease
Quantity Surveyor/Cost Consultant Gleeds
Internal area 17,473.00 m²