​Orchard Barn
by Chiles Evans + Care Architects
Client Private
Awards RIBA East Midlands Award 2018, RIBA East Midlands Small Project of the Year 2018.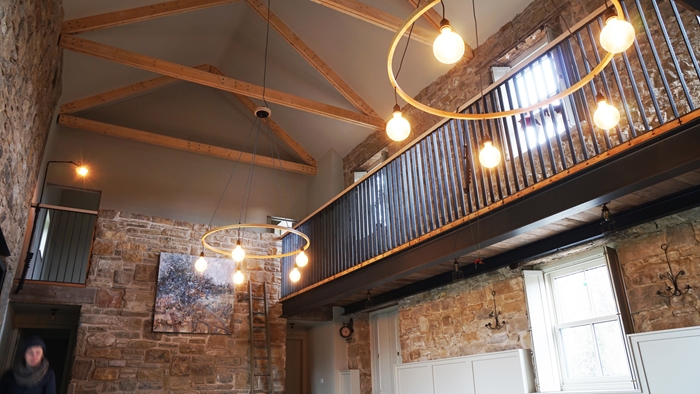 A humble yet exemplar project for the adaptive reuse of historic buildings. The barn sits in a prominent location within the village of Ashover and has been sensitively restored to retain its integrity and continue the historic narrative.
Perhaps more significantly, however, the client was keen that the physical restoration was a catalyst to re-ignite the special relationship the building has historically enjoyed with the village and community. The adaptation responds with a series of subtle interventions that create new possibilities for how the space might be used and experienced.

The more public aspects of the barn have been restored with new windows, rebuilt chimneys and repaired stonework, but it is the garden aspect that reveals the building's inner secrets. Approached via the orchard, the barn now welcomes visitors through a generous new opening and when slid aside this doorway successfully reconnects the barn with the garden setting and house.
A smaller entrance presents an interesting alternative via a small museum room. Both possibilities reveal an unexpected double-height space that re-imagines how the barn is inhabited and enjoyed far beyond its humbler origins.
This flexible and multi-facetted space establishes a new venue for community gatherings, such as the apple harvest, inviting new generations to enjoy both building and garden.

The large-scale adaptation is only the first of many layers of ingenuity and the awards jury particularly enjoyed the new gallery as it wraps the central volume to create a series of smaller spaces and experiences: a cosy fireside retreat; an attractive elevated vantage point and hinted-at private spaces available for contemplation and rest.

Further enjoyment is to be had in the attention to detailing and thoughtful selection of materials. The re-use of the original and unique floor boarding in the new gallery or the reclaiming of the original stone floor are just some of the many small stories that imbue the structure with a continuing sense of history.
On the occasion that new materials and devices are employed, notably the timber roof trusses or metal balustrade, they are executed with a sensitivity that does not overwhelm the rural qualities of the original structure.

It is genuinely surprising to find such a range of delightful spaces, meticulous detailing and new possibilities for re-use within such a small project and it is testament to the skills of the design team and the client's openness to a more informal and imaginative approach.

Contractor Travis Wainwright Builders
Structural Engineer BDI Structural Solutions
Internal area 138.00 m²