Vijay Patel Building, De Montfort University
by CPMG Architects
Client De Montfort University
Award RIBA East Midlands Award 2018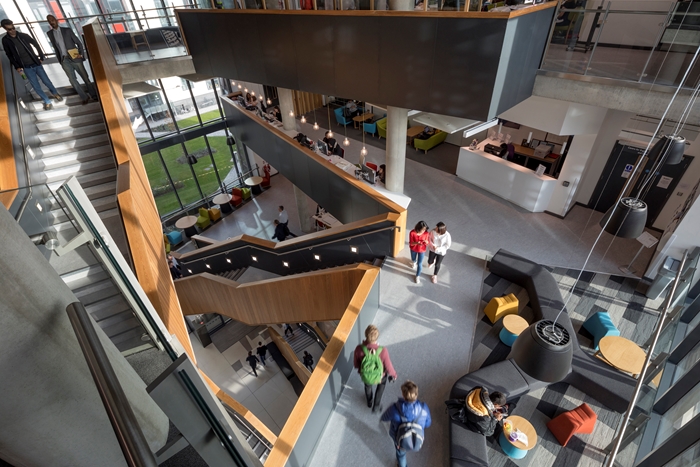 A project of considerable scale which has succeeded in producing not only a building of high merit, but has also transformed the experience for a wide population in a significant area of the city.

The project brief was to create a purpose-built environment for the Faculty of Art and Design. This is both complex and ambitious requiring the planning and integration of a considerable quantum and range of different teaching spaces. Importantly, the three-dimensional planning also delivers on a key philosophy by actively promoting collaboration and openness between departments.

A primary move for the design is the retention of the Fletcher Building, a twelve-storey tower which now serves as the focal point for the composition and around which other spaces are skilfully arranged. The clear legibility of the layout results from the insertion of a series of dramatic atria, mediating between the different building forms and allowing visual connections between departments.
Each of the atria is designed to resolve the unique challenges of their location and exude an individuality of form, proportion and materiality. This greatly enhances the enjoyment of moving through what is a very large and complex building and it is clearly evident that the students enjoy the multiplicity of spaces.
Responding to the project brief, boundaries are often blurred between formal studios, workshops and the more loosely defined public zones, adding to the transparency of the teaching environment.

Spaces such as the roof terraces, riverside café, and the generously proportioned public realm are particularly successful in connecting the interior functions of the building to the surrounding context and promoting the enjoyment of this part of the city and riverside.

Internally the aesthetic often exhibits an honest, industrial approach adding vibrancy and interest in to the mix. In other areas the building is calmer, functioning as more of a backdrop, and here students' work is on display to continually inspire and resonate.

Despite the scale of the project, the exterior remains legible through a clear and rigorous language of three dimensional forms and cladding approaches. Although extensive, the material palette is well balanced and skilfully incorporates photovoltaics, solar shading and digital media in an animated composition.

The building is an impressive achievement that provides the University with a building of great presence. It is also undoubtedly generous in its provision of an inspirational teaching environment and the new life it gives back to the city.

Contractor Balfour Beatty Construction
Structural Engineer Curtins
Environmental/M&E Engineer Pick Everard/Arup
Quantity Surveyor/Cost Consultant MDA Consulting
Project Management Mace
Landscape Architects Plincke
Internal area 25,000.00 m²