Dancing Flowers of Doe Lea
by Tonkin Liu
Client Beam
Awards RIBA East Midlands Award 2019 and RIBA East Midlands Small Project Award 2019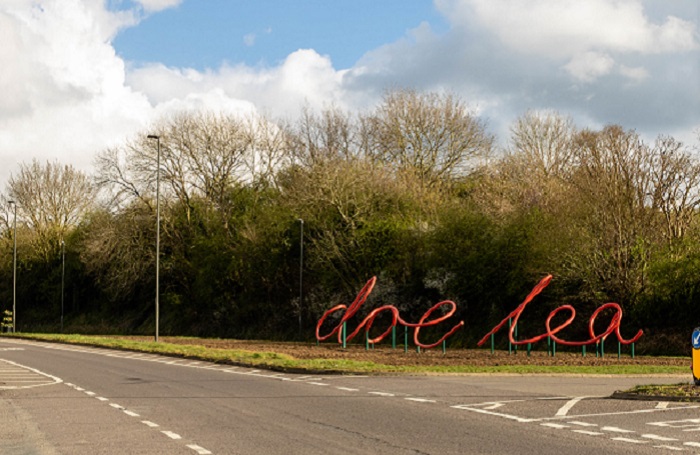 In recent years, Doe Lea – a proud, former, mining community - has lost its identity and struggling to evolve from its historic mining heritage. The village recognised that new villagers and those with strong mining roots needed to come together to find common ground and a new purpose.
BEAM, a Yorkshire based public arts charity, ran an architectural competition for a permanent landmark on a traffic island that would mark the entrance to the village.
Tonkin Liu's winning design is underpinned with local historical research and the careful interpretation of the curved scars of the mining landscape and how these landscape lines can be reinterpreted into a 'line going for a walk'. The result is an anamorphic red line spelling out, when all aligned on your approach by vehicle, the village name.
This red steel tube 'dances' across the traffic island at the entry to the village in two sections, forming sweeping red lines in front of a background of a rich green hedgerow. On the village side the tube is decorated in delightful flower stencils, inspired by community workshop sessions with the local school children. These flowers will, in time, sit above the wild flower meadow that has been planted under the sculpture. Part of the project was to encourage locals to bring this wild flower planting into the village, to physically connect all parts of the evolving community.
What could have just been a sign or a cliched pit wheel with the name of Doe Lea tacked on below has been elevated to something far higher, forming a series of new and evolving picture frames to the village and the landscape around. It surprises the mind with a playful, but rigorously underpinned, response to a brief that truly puts Doe Lea back on the map.
Contractor Tonkin Liu
Structural Engineers Rodrigues Associates
Artwork Fabricator SH Structures
Internal area 250 m²