Hannington Farm
by James Gorst Architects
Client Private
Awards RIBA East Midlands Award 2019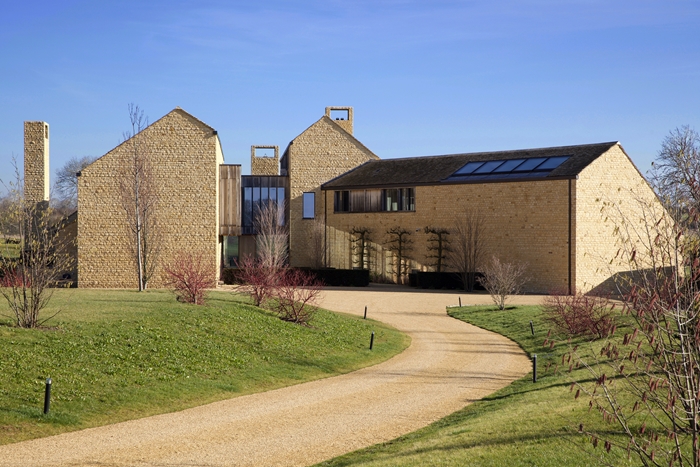 This is a wide-open rural setting that asked the architect questions about how the planning of the house can imbue the site with an orientation and sense of place. There is a reference to the contouring of the land that sets up the planning moves, but the house is more painterly in its response and the architect plays around with known pitched forms and traditional materials to quietly subvert and provide a contextual contemporary home.

This is unashamedly a 21st Century country home that reimagines the more ubiquitous vernacular forms of farm buildings into a modern manor house.

The house is not revealed at once. On entry there are glimpses and views to courtyards and gardens beyond that knit the house into the wider landscape, but you must be invited from this fulcrum into the various wings containing spaces for living and entertaining. This aggregated form is connected by a delightfully detailed staircase, rising sculpturally from the ground floor and on the upper floors only lightly touching this lower plinth.

The main structure for this house is from cross laminated timber panels, glulam beams and columns. These are exceptionally well detailed, and all are lime washed to soften the look. There is a constant joinery datum set up which splits the walls to the rooms by approximately two thirds to one that allows all sorts of details of modern life to be neatly handled. This attention to detail is seen in all aspects of the design.

There is no missed opportunity to craft a response to the various aspects of the client brief, both internally and externally. The house is clad in a Cotswold stone that has been chosen for all but one of the wings. The exception being a playful, but fastidiously detailed, stone slate wing where walls and roof merge together. The numerous fireplaces also form rather Scandinavian style chimney stacks that act as strong markers within this overall assured composition.

Although this house is undoubtably a fine modern manor home, it also provides an approach to how more modest new build homes could be informed by an evolving tradition that creates modern vernacular houses in rural settings.

Location Northamptonshire

Contractor Kingerlee Consultants
Quantity Surveyor / Cost Consultant Jackson Coles
Structural Engineers Heyne Tillet Steel
Environmental / M&E Engineers Buro Happold
Garden Designer James Alexander-Sinclair
Internal area 1,512 m²