Stackyard
by James Boon Architects
Client Private
Awards RIBA East Midlands Award 2019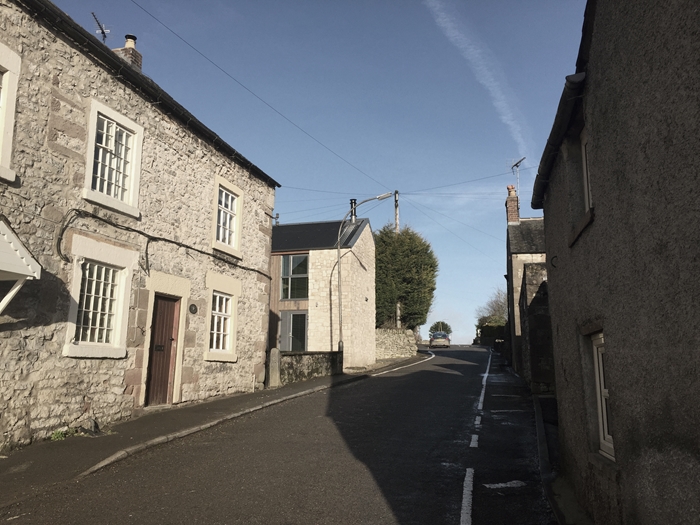 This modest new build house, located in a bucolic village setting, continues the vital conversation about appropriate development in sensitive locations.
The architect, took on an existing consent for this modest courtyard site and challenged a more conventional plan, with living spaces on the ground floor looking out onto the blank courtyard walls and long corridor spaces to the upper floor bedrooms. He re-planned the building with a central stair to reduce circulation and flipped the living areas to the upper floor.
These two key moves unlock the potential of the upper volume of the property. Kitchen, dining and living room occupy a double height space, with the living room focused around the fireplace as the traditional heart of the home. An unapologetic steel truss separates this from the dining area and kitchen beyond.
This room now also benefits from the framed views over the roofscape of the village and to the surrounding countryside. A small studio is directly accessed from this room and can be used as a spare bedroom as required.
The choice of materials was inspired whilst holidaying on the Isle of Skye and, working closely with the main contractor, a simple palette of screed flooring and birch faced ply walls forms the lower floor plan and staircase that winds up to the first floor. The balustrade neatly wraps around and becomes the birch ply dining table.
Externally the natural stone walls, stained timber cladding and fibre cement board roof visually connect the house to its surrounding neighbourhood. An air source heat pump is also integrated into a courtyard design that is well on its way to reaching maturity. It was also noted that this house does not fill the whole site and respects its neighbours with a reclaimed granite set pathway and a cut back for a small vision splay to neighbouring parking. These touches show a genuine consideration for their fellow villagers with the cut back providing added interest in the upper volume of the property.
It is common to designate peripheral green field sites to address the need for new housing in village communities, however Stackyard points towards a more sustainable approach; one that looks for opportunities in the heart of the existing, creating 'slices' of new buildings that can stitch the grain of the village together. It is a conversation that is worth listening to.
Location Derbyshire
Additional Architect practice GRT Architecture
Contractor Backs Construction
Structural Engineers GCA Consulting
Internal area 100 m²